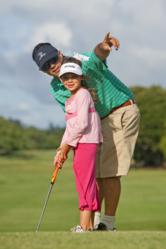 Our commitment to family at Maui Country Club has expanded with the creation of the Family Course. The ideal family club now has the ideal family golf course!
Spreckelsville, Maui, Hawaii (PRWEB) October 31, 2011
The golf industry is concerned at the decline in the popularity of golf – from existing players and new players alike. Part of the problem today is busy lifestyles resulting in limited time to play; and the difficulty at achieving proficiency. Maui Country Club's solution has been to create a "short" course to encourage getting members out to play with their families.
The idea of a family-friendly course was suggested by Club member Robert Campbell over a year ago. A father's desire to spark an interest in his children for the game; he took the initiative using Google Maps to plot the course, measuring out shorter tees, and through Campbell's printing business, created a special scorecard. It is used today on what has become known as the "Family Course."
With the blessing of the Club's Board of Directors, Club Professional Mark Shimamura with the assistance of Golf Course Superintendent Gerald Yoza set the course up for family play every Saturday. Due to its popularity, the Club made the Family Course available for daily play.
A recent review of Maui Country Club's golf course by Larry Gilhuly, Northwest Director for the USGA noted the forward tees. A PGA and USGA initiative, "Tee it Forward" is currently being promoted by the organizations. Gilhuly's report stated, "The concept behind the idea [of 'Tee it Forward'] was many players are simply playing golf courses that are far too long for their ability. This results in slower play and far less fun." His organization is recommending playing forward for players of all ages. Encouraging family play encompasses multiple generations to enjoy time golfing together.
Maui Country Club Member Kevin Hagan commented, "With school back in session our time is limited, and yet we are there at least once a week. We all look forward to golfing and eating at the Club, it's becoming a new family tradition. Being outside and golfing with our 5 and 7 year old sons is awesome for us!"
Membership in Maui Country Club includes the entire family at no additional cost; and members may bring their grandchildren aged 12 and younger to the golf course where they play for free. Other family members are able to play golf at half off the Club's guest rate. "Our commitment to family at Maui Country Club has expanded with the creation of the Family Course," said General Manager Russell Goshi. "The ideal family club now has the ideal family golf course!"
Hagan agreed adding, "When the golfers see us hitting off the orange tees, they are patient – that is a nice part of golfing here at Maui Country Club."
# # #