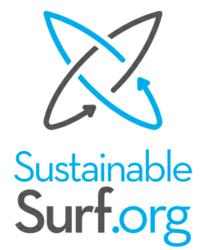 San Francisco, CA (PRWEB) October 31, 2011
Sustainable Surf has developed an innovative sustainability plan for the Rip Curl Pro Search in San Francisco, Nov 1-12, 2011. The contest will be scoring solid points for introducing several firsts for any major surfing competition. These include powering event generators from waste grease sourced from local restaurants, a "Zero Waste" event with a 90% waste diversion rate goal, a public bicycle and skateboard valet service, and upcycling of contest banners into surf-specific gear like surfboard travel bags.
"San Francisco leads the way in sustainable city living, so this contest location presents a great opportunity for Rip Curl to learn more about reducing the impact of our surfing contests," says Brooke Farris, International Events Manager for Rip Curl. "Sustainable Surf helped us develop a comprehensive sustainability strategy and then implemented the plan with both local San Francisco and Californian based partners and vendors. We have learned so much that we hope to carry forward as we continue our Search around the Planet."
A World Tour surf contest has significant power needs for the sophisticated live webcast and large on-beach infrastructure. For the first time ever, that power will be generated from biodiesel sourced from the waste grease of local restaurants. Waste grease biodiesel emits 80% less greenhouse gases than conventional diesel fuel, making it the cleanest possible fuel to use in a diesel generator. The biodiesel for the event is made possible by the innovative SF Greasecyle program, and is being supplied to the contest by People's Fuel Cooperative.
The contest will be a Zero Waste Event through an ambitious waste diversion program with an overall goal of a 90% waste diversion rate. This is important, as thousands of beach-going spectators can leave behind large quantities of trash. Local non-profit Wastebusters will staff event waste bins where people will be encouraged to recycle or compost their waste. The total weight of recycled material, composted material, and garbage will be recorded and published at the conclusion of the event.
Even better than recycling is "upcycling", where common waste materials are transformed directly into high value finished retail goods. The Rip Curl Pro Search will use a local California vendor to convert contest banners into surfboard bags and tote bags. In all, 8,000 square feet of PVC banners will be donated to The Progress Project, based in Encinitas, CA.
In San Francisco, where automobile parking is always at a premium, residents are accustomed to seeing bicycle valet services at public events. The Rip Curl Pro Search will break new ground by hosting the first ever skateboard valet, in addition to bicycles, provided by the SF Bicycle Coalition. You heard that right – a skateboard valet service! Thrasher Magazine (SF born) would be proud.
Ocean Beach is a world class surf break famous for dishing out punishment to surfers. Broken boards are a frequent occurrence, so Rip Curl has partnered with ReRip to collect broken boards from the pro surfers, repair them, and then donate them to deserving kids. Some young "grom" surfer is going to be stoked to get a board once ridden by their favorite pro. Similarly, Rip Curl will donate used wetsuits to Warm Current, which repairs wetsuits and donates them to people in need.
In addition to these unique sustainability efforts, the Rip Curl Pro Search will also implement common sustainability practices. The event will be carbon neutral through the purchase of high quality verified carbon offsets. The public will be encouraged to use all types of alternative transportation to get the to event. There will be water stations on the beach and in the parking lot, and Rip Curl will sell branded stainless steel reusable water bottles, as an alternative to single-use plastic water bottles. Finally, Rip Curl will sponsor beach cleanups and support local non-profits such as the Surfrider Foundation, Save the Waves, and others who are making a difference in protecting the ocean environment.
More information about the sustainability plan of the Rip Curl Pro Search in San Francisco can be found on the web at: http://sustainablesurf.org
About Sustainable Surf
Sustainable Surf is the first non-profit organization with a mission to make the surf industry more sustainable. Sustainable Surf creates innovative action campaigns around sustainable surf products, offers a verification service for surfboards made from sustainable materials (termed "ECOBOARDS"), and consults with manufacturers on new sustainable technology and practices. The Founders of Sustainable Surf are experts in environmental advocacy, consumer product certification, sustainable business development, and sustainability science.
Contact Info
Kevin Whilden, Executive Director
Sustainable Surf
(949) 228-9718
http://www.sustainablesurf.org
###