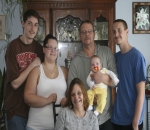 "We owed $103,000 and now we can settle for $27,000. Ten years ago we weren't renting for as little as we pay now." - homeowner William White
Chicago, IL (PRWEB) October 31, 2011
American Homeowner Preservation is expanding their nationwide program to keep distressed homeowners in their homes by enlisting real estate agents for the frontlines. AHP recently launched an investment fund and is utilizing their increased resources to acquire ever-larger pools of defaulted mortgages from lenders and the FDIC. Upon acquisition, borrowers are offered loan modifications which provide payment reductions averaging 40% and options to settle their mortgage principal at discounts averaging 50%. For those families who do not want to stay in their homes, cash incentives are offered to borrowers to cooperate with short sales or provide deeds in lieu.
Licensed agents initially provide CMA reports as part of AHP's due diligence process. Once the loan is acquired, the local agent can then contact the homeowner to review options available. Agents are compensated for facilitating loan modifications or can earn commissions if homes are listed and sold. "Real estate agents are knowledgeable sources who can assist borrowers in understanding their choices," said Michelle Weadbrock, AHP's Nationwide Agent Coordinator. "AHP is intent on providing the solutions which borrowers need, not those which maximize profits for our investors. By working hand-in-hand with local agents and our servicers, we can make decisions in hours as opposed to months."
"We owed $103,000 and now we can settle for $27,000. Ten years ago we weren't renting for as little as we pay now." said William White of Roseville, Michigan, whose home was saved through AHP's program. Hundreds of mortgages totaling over $40Million have been settled through AHP's program. Interested agents are encouraged to register at http://www.ahphelp.com or by contacting AHP at 800-555-1055.
###