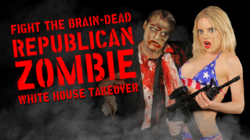 Gory, Comically Violent Video Shows Obama Supporters Killing "Brain-dead Republican Zombies" on White House Lawn
Los Angeles, CA (PRWEB) October 31, 2011
RepublicanZombieDefense.com, a humor-tinged Democrat activist website today released a controversial Halloween video portraying Republicans as brain-dead zombies in the 2012 presidential race. The comically bloody and graphic video is set on the White House lawn and features Obama 2012 activists beheading, exploding, and maiming politically conservative zombies with machineguns, grenades, garden shears, and chainsaws.
Commentaries on gay marriage, climate change, healthcare, and more are punctuated with geysers of blood, dismemberment, and explosions as Democratic activists are shown defending President Obama's White House from Republican presidential zombie voters.
"The metaphor of Republicans as zombies is unfortunately very appropriate," said Luke Montgomery, founder of RepublicanZombieDefense.com. "Their heartless opposition to healthcare, gay marriage, and climate change science is a political infection that if not fought back, will be deadly to the lives of millions of Americans. It was a real Halloween treat to make this video, which is a comical warning to the public not to be tricked and fight the brain-dead Republican takeover in 2012."
The new RepublicanZombieDefense.com video features comically graphic scenes that gut Republican stances on political issues, including:

A stars and stripes bikini-clad woman covered in a zombie's projectile vomit, representing the toxic ideology of Republican candidates.
A heartless zombie bent on repealing needed healthcare legislation that looses his heart, courtesy of a machine-gun wielding Obama supporter.
Sound byte: "You want to take health care away from people without insurance? Don't you have a heart?"
A zombie that doubts the validity of global warming science gets its head examined and knocked off by an American using a baseball bat.
Sound byte: "You don't believe the scientific evidence that man made pollution is causing a climate change disaster? You need to get your head examined!"
A zombie bent on privatizing Social security gets its hand chopped off with garden shears.
Sound byte: "Keep your hands off my grandma's social security!"
This video is a first in a series from RepublicanZombieDefense.com, which is comprised of Obama 2012 activists. Using funds received through branded memorabilia, including t-shirts, bumper stickers, and wristbands, the company will continue to produce creative political video campaigns and live events targeting Republican candidates.
To view the full assortment of memorabilia for sale to help the campaign, please visit http://www.republicanzombiedefense.com. The company will also be holding frequent giveaways via its Facebook and Twitter pages and is encouraging all viewers to spread the word.
Helpful links
http://www.republicanzombiedefense.com
Twitter: @stopzombies2012
Facebook: http://www.facebook.com/republicanzombiedefense
YouTube: http://www.youtube.com/RepubZombieDefense
Vimeo: http://vimeo.com/31317754
About RepublicanZombieDefense.com
RepublicanZombieDefense is a humor-tinged political activist website that supports the Democratic campaigns and issues. The company produces controversial viral videos and live events that support these political issues, as well as branded memorabilia.
The website was founded by Luke Montgomery, a renowned American political activist and is not officially endorsed by the Obama 2012 campaign.
###