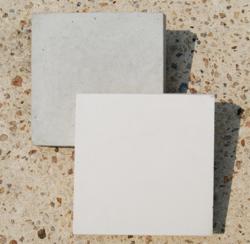 Denver, Pa. (PRWEB) October 31, 2011
High Concrete Group LLC has introduced a new high solar reflectance concrete mix design that significantly improves the heat reflectance of precast concrete surfaces, causing them to stay cooler. Solar reflectance testing from partner BASF Construction Chemicals confirmed the mix design has a solar reflectance index (SRI) of 82, nearly doubling the SRI of the company's conventional gray concrete mixes.
High solar reflectance precast concrete helps buildings reflect rather than absorb solar radiation, supporting the sustainable design goals of project teams working in new commercial, institutional and other construction. The solar reflectance of a building's exterior surfaces impacts its contribution to the urban heat island effect, a phenomenon in which built areas are dramatically warmer than surrounding rural areas, resulting in poorer air quality and increased utility costs. High solar reflectance precast can also be used to reverse the urban heat island effect.
High Concrete Group developed the high solar reflectance concrete mix design with BASF using 75 percent white cement and 25 percent ground granulated blast furnace slag, a recycled material, for the cementitious content. Local limestone aggregates provided a neutral-colored base. The SRI of 82 was achieved on a form-finished white concrete block sample.
The high-SRI concrete mix is available for specification in High Concrete Group's architectural precast concrete wall panels including the company's line of CarbonCast® thermally efficient precast enclosures. The mix can also be specified for High's MEGA-TeeTM precast double tees, and CarbonCast double tees, which make up the driving surface of precast parking structures.
Based in Denver, Pa., High Concrete Group is a leading producer of sustainable precast structures and components. The company's precast walls and precast cladding are available from the company's plants in Denver, Pa., and Springboro, Ohio. The company's Denver, Pa., plant is also one of the country's leading fabricators of precast parking garages.
About High Concrete Group:
Headquartered in Denver, Pa., and employing more than 500 co-workers, High Concrete Group has provided precast components for more than 5,000 projects since 1957, and is found on Engineering News Record's list of the Top 600 Specialty Contractors. High Concrete Group has production facilities in Denver, Pa., Buena, N.J., Springboro, Ohio, and Paxton, Ill. The company also operates High Concrete Accessories, a Denver, Pa.-based national precasting embedment supplier.
###