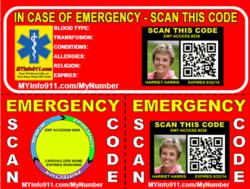 Palm Coast, FL (PRWEB) October 31, 2011
Halloween is a night of costumes and candy and for most kids, one of their favorite holidays. Getting all dressed up as their favorite action hero, princess or scary monster can be a lot of fun. The downside, which no one really thinks about is the excess traffic, dark roads and dark costumes these kids are wearing. Last year in Louisiana 755 crashes were recorded during the 100 hours surrounding Halloween. The National Highway Traffic Safety Administration revealed pedestrian accidents increased by 4.5 times on Halloween. A study showed children age 15 and under were the primary victims of these accidents and many of them occur during the evening trick-or-treat time, according to the National Highway Traffic Safety Administration.
MyInfo911 has several products which can help the First Responders provide immediate and accurate care to your child should one of these unfortunate situations occur. Not only does the First Responder have immediate access to your child's special conditions, medications and allergies, the child's parents get a notification email automatically every time the QR Code on the card or sticker is scanned.
These products are not only critical for your child on Halloween, when accident statistics rise significantly, but for every day as well. Children ride bicycles, walk to school, participate in sports activities and recreational play.
About MyInfo911
Started in October 2010, MyInfo911 provides emergency identification cards that use QR codes to provide pertinent medical history information to first responders and other medical providers. The Palm Coast, Florida based company's cards have the person's picture, name and QR code on the front and the person's name, year of birth, emergency contact, blood type, allergies and specific medical conditions on the back. For more information visit http://www.myinfo911.com
###