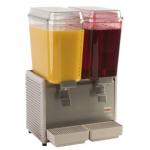 Deerfield Beach, FL (PRWEB) October 31, 2011
Hotel Restaurant Supply (HotelRestaurantSupply.com) has announced the details of its latest sales promotions which include top brand name products from Edgecraft, Krowne Metal, Grindmaster-Cecilware, and Vulcan Hart.
Hotel Restaurant Supply is a full-service dealer of top quality brand name products for hotels and other foodservice organizations needing restaurant supplies. Its on-staff design team is capable of answering client questions about these products, about their use, and can even provide facility designs with supporting AutoCad drawings.
The Edgecraft food slicers being featured by Hotel Restaurant Supply are elegantly styled and designed specifically for precision, power, smooth operation, and efficiency. The current promotion offers the full range of the available Edgecraft slicer products at significantly reduced prices.
Krowne Metal under bar equipment on sale at Hotel Restaurant Supply range from back bar cabinets to back bar coolers, and from countertop condiment servers to drop-in hand sinks and even under counter dishwashers. These metal products are known for their quality, durability, and functionality.
The bubbler beverage dispenser from Grindmaster-Cecilware (GND-D25-4) currently being featured at a discounted price by Hotel Restaurant Supply is produced by the manufacturer which is recognized worldwide for its ability to continually meet the ever-changing needs of the food service and hotel industries.
The countertop cooking equipment manufactured by Vulcan Hart on sale at Hotel Restaurant Supply includes a broad range of top quality products such as the gas charbroiler, cheese melters and salamanders, French fry warmer, and counter griddle.
For more information about the products on sale, the full range of available food service and beverage dispensing products, and about Hotel Restaurant Supply, visit the official company website at : http://www.hotelrestaurantsupply.com
###