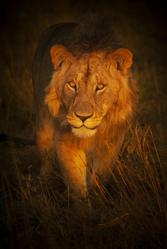 "You cannot find a better deal at this price point and for those that can add on travel before or after the Group On trip, they can really take advantage of the value this trip offers."
New York, NY (PRWEB) October 31, 2011
For the past week Odyssey Safaris and Group On have offered an 8 day Kenya safari that includes international airfare via the travel discount site Group On Getaways. Escorted by safari guides and traveling with only 6 total travelers these small Group tours visit the highlights of Kenya and use upscale tented camps and lodges.
"Odyssey Safaris and Group On are excited by this safari offering," said Mark Cahill, managing director of Odyssey Safaris. "You cannot find a better deal at this price point and for those that can add on travel before or after the Group On trip, they can really take advantage of the value this trip offers."
Group On Getaways Safari Itinerary
1 night Nairobi
2 nights Samburu National Reserve
1 nights Lake Nakuru National Park
2 nights Masai Mara National Reserve
Group On Getaways Safari Accommodations
The following luxurious safari accommodations in Kenya will be visited:
Nairobi: Nairobi Safari Park
Samburu: Ashnil Samburu Tented Camp
Lake Nakuru: Sarova Lion Hill
Mara: Ashnil Mara Camp
Departure Dates
This tour departs on Sundays January 2012 through May 2012:
2012
JANUARY (SUNDAYS)
Depart USA 1st; Depart Nairobi 8th
Depart USA 8th; Depart Nairobi 15th
Depart USA 15th; Depart Nairobi 22th
Depart USA 29th; Depart Nairobi February 5th 
FEBRUARY (SUNDAYS)
Depart USA 5th; Depart Nairobi 12th
Depart USA 12th; Depart Nairobi 19th
Depart USA 19th; Depart Nairobi 26th
Depart USA 26th; Depart Nairobi March 4th 
MARCH (SUNDAYS)
Depart USA 4th; Depart Nairobi 11th
Depart USA 11th; Depart Nairobi 18th
Depart USA 18th; Depart Nairobi 25th
Depart USA 25th; Depart Nairobi April 1st 
APRIL (SUNDAYS)
Depart USA 1st; Depart Nairobi 8th
Depart USA 8th; Depart Nairobi 15th
Depart USA 15th; Depart Nairobi 22nd
Depart USA 22nd; Depart Nairobi May 29th
Depart USA 29th; Depart Nairobi May 6th 
MAY (SUNDAYS)
Depart USA 6th; Depart Nairobi 13th
Depart USA 13th; Depart Nairobi 20th
Price
$3,600 per person sharing
The workshop/tour price includes:
International Airfare from JFK or Washington, Dulles (IAD) http://odysseysafaris.com/group-on/airfare-information.html
Lodging (single supplement add $500)
All in-country transportation
Park fees
Meals and bottled water daily
Unlimited game drives
Complimentary enrollment in emergency air-evacuation service
An English-speaking driver/guide, and the services of English-speaking cooks and porters
For more information or to book contact Groupon.com/getaways http://www.groupon.com/deals/ga-c-odyssey-safaris?p=5
About Odyssey Safaris
Founded in 2004 Odyssey Safaris immediately sought to address the need for outstanding customer service and the extra value that customized safaris offer. Working with the local knowledge of partner and Safari Operations Director Eliud Karimi and staff, Managing Director Mark Cahill provides information and insight to travelers to assist them in creating the perfect Kenya or Tanzania safari. The companies extra-net on their website and offices in the US and Kenya provide 24 our support to travelers and travel agents to manage their travel details.
"The destinations in east Africa are incredible and clients are obviously thrilled with that part of the trip, but what really makes a safari special is the people who execute it for you, the guide, the planner and support staff, said Managing Director Mark Cahill. "Once your on the plane to east Africa professionalism is extremely important and our clients are exceedingly impressed with our staff and some have remained friends; its a priceless value add."
Odyssey Safaris is a member of the Association for the Promotion of Tourism (APTA) to Africa and the Africa Travel Association (ATA).
View all of Odyssey Safaris Kenya Safaris, Tanzania Safaris, and Kenya and Tanzania safaris products.
Read about all of the steps Odyssey Safaris takes to make your trip as enjoyable as possible: Safe Safari Travel
Contact
Mark Cahill
Odyssey Safaris
1-855-2SAFARI
###