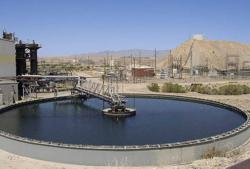 The understanding of the local requirements is essential in our mining waste water treatment business
Atlanta, GA (PRWEB) October 31, 2011
FRC Systems International received a contract for the manufacturing and delivery of a 450 m3/hr (2,000 gpm) Dissolved Air Flotation (DAF) mining waste water treatment system for a copper mine in Chile Minera Doña Ines de Collahuasi. The FRC Dissolved Air Flotation (DAF) unit will be installed in the port where copper mine concentrate is loaded to the vessels. Copper concentrates produced by mines are sold to smelters and refiners who treat the ore and refine the copper. FRC is happy with the contract because it adds another project to the enormous amount of FRC references and this project will be in South America, an area where FRC is expanding rapidly
The waste water treatment systems for the mining industry has many challenges particular in Chile. "The understanding of the local requirements is essential in our mining waste water treatment business," explains Adriaan van der Beek, "Chile has been at a convergent plate boundary that generates earthquakes for a long time. All Dissolved Air Flotation (DAF) equipment supplied for the mining waste water treatment in Chile need to be in compliance with Seismic zone 4. The Chilean requirements seem more strict then the Californian standards." Non stainless steel based Dissolved Air Flotation (DAF) products as some other companies provide a based on FRP or PP and consequently will not comply. The FRC Dissolved Air Flotation (DAF) is fabricated out of Stainless Steel 316
The state-of-the art FRC Dissolved Air Flotation (DAF) products for the mining industry, combined with our fundamental technical knowledge enables us to offer every client superior Dissolved Air Flotation (DAF) waste water treatment systems. FRC has many references in large industry corporations as well as processors in the Mining, Food and Oil & Gas industry. We understand the challenges of treating waste water and the major pollutants.. Each mineral mine industry presents a different treatment challenge which requires the use of different treatment technologies. For example the waste water treated in the FRC Dissolved Air Flotation (DAF) is coming from overflow of thickeners of copper concentrate. The overflow from the copper concentrate thickeners is combined with waste water from the scrubbers. The scrubber waste water is treated to precipitate H2S previously oxidized with ferrous sulfate. The solids are first send to a lamella plate settler for solid removal followed by Dissolved Air Flotation (DAF) for final solids removal of the fine dispersed solids prior to discharge.
FRC Systems leader in waste water treatment systems
FRC Systems International is a global leader in the design and manufacturing of industrial waste water treatment systems for the mining, food processing as well as the oil and gas industry. FRC not only manufactures equipment, but also provides complete waste water treatment systems and turnkey solutions. Adriaan van der Beek, with over 20 years' experience in the industry, explains, "We have a wealth of experience available within FRC for mining waste water treatment as well as other industrial waste water treatment applications."
Not only is FRC Systems International well known for having professional experienced people with energy and enthusiasm for tackling wastewater treatment problems. Any FRC system is designed and manufactured to provide a sustainable solution at minimum costs and minimum operational costs, FRC systems International are experts in finding a cost-effective and innovative waste water treatment solution. We deliver the state-of-the art reliable custom made waste water treatment solution. Visit our website http://www.frcsystems.com.
###