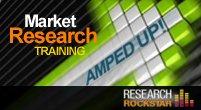 The other market research event, Market Research University Week, will take place during the same three-day period of time as TMRE, with a couple of important differences
Marlboro, MA (PRWEB) October 31, 2011
This November 7th to 9th, quite a few lucky market research professionals will be gathered in Orlando, Florida learning and networking at one of the industry's premiere conferences: The Market Research Event (hosted by the Institute for International Research).
TMRE attendees will enjoy great speakers and an exciting program agenda. But since not everyone has room in their calendar or budget for conferences, Research Rockstar is offering an alternative—a way to get market research learning but in the convenience of your own workspace, and without spending thousands of dollars.
The other market research event, Market Research University Week, will take place during the same three-day period of time as TMRE, with a couple of important differences. Students will get a bundle of four great classes and an hour of one-on-one time with instructor Kathryn Korostoff for $579. And with Research Rockstar's on-demand scheduling, you can choose exactly when to take each class, any time between November 7th and 10th.
"'Nothing compares to the inspiration and intensity of attending a premiere industry event like TMRE," says Korostoff. "But some of our friends and colleagues are staying home for practical reasons. I didn't think we should let that stop us from gathering for a learning experience, even if we do it in cyberspace. At Research Rockstar's Market Research University Week, students will gain fresh, practical market research knowledge from the comfort of their home or office."
Registering for Market Research University Week allows students to pick up to four of the following online courses:

Ask It Right: All About Scales and Answer Options for Questionnaire Design
How to Hire a Market Research Agency: Practical steps for a Successful Process
Learning from History: Using Win/Loss Research to Improve Sales Success
Market Segmentation: Practical Steps to Research Success
Product Concept Testing: Practical Steps to Research Success
Reorganizing the Market Research Function
Social Media Meets Market Research: Social Media and Social Networking as Market Research Resources.
Each class is 40-80 minutes long. After registration, students will be sent an email link that will allow them to select the time slots and sequence that will best suit their needs. For more information on Market Research University Week, please click here.
About Research Rockstar
Research Rockstar delivers training, tips and support services to busy professionals seeking market research excellence. It offers eighteen market research classes which are available online (self-paced eLearning) or on-site.
President Kathryn Korostoff is a market research professional with a special interest in how organizations acquire, manage, and apply market research. Over the past 20 years she has personally directed more than 650 primary market research projects and published over 100 bylined articles in various magazines and newspapers. She is also the author of, "How to Hire and Manage Market Research Agencies", available on Amazon. Kathryn can be contacted at kkorostoff(at)researchrockstar(dot)com.
###