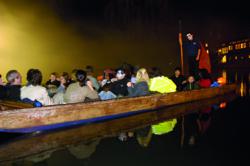 Be prepared to discover a side of our ancient city that you never knew existed.
Cambridge, United Kingdom (PRWEB) October 31, 2011
After a highly successful run of tours over Halloween, Scudamore's Punting Company and Visit Cambridge are teaming up to deliver a special Christmas edition of Cambridge's much-acclaimed Punting & Walking Ghost Tour. The tour lasts 90 minutes and pairs a spooky 45 minute punt ride along the College Backs with a 45 minute walk through Cambridge.
Cambridge by day is an attractive place, graced by the fine buildings of the colleges and University, its streets full of bustling activity. The River Cam, too, is a beautiful and tranquilizing haven, away from the hustle and bustle of everyday life. But by night, this ancient city becomes a place of dimly lit lanes and dark shadows, which hint at something altogether more sinister.
Whether it is the tragic lovers who are reunited once a year in an ancient college courtyard or the ghostly legs seen running up the stairs of the University photographers' shop, this tour will illuminate some of the many hitherto untold Cambridge ghost stories. Join the tour to find out more about these gruesome tales, if you dare.
During the festive season dauntless souls who join the tour will be fortified with either a cup of mulled wine or hot chocolate before setting out to explore this nocturnal Cambridge of unquiet spirits, restless revenants, exorcisms and witchcraft. Be prepared to discover a side to our ancient city that you never even knew existed.
This Christmas, tours will run daily between Saturday December 10th 2011 and Monday 2nd January 2012 (excluding Christmas Day). Tours will depart at 4pm from Scudamore's Mill Lane Punt Station and finish close to the Market Square. For more information and to purchase tickets, please telephone Scudamore's on 01223 359750 or visit http://www.scudamores.com.
Tickets cost £18.50 for adults, £17.00 for concessions (students & over-60s) and £9.25 for under-12s.
###