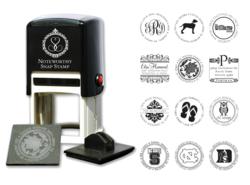 Cary, NC (PRWEB) October 31, 2011
This fall, InvitationBox.com introduced the newly transformed Noteworthy Snap Stamp, by Noteworthy Collections, to their stationery collection. The self-inking snap stamp offers customer the opportunity to purchase one single stamp base and choose from over 1,600 different stamp faces to use with their stamp base. The Noteworthy Snap Stamp uses magnetic technology to attach each different stamp face, thus eliminating the need for multiple stamp bases for different designs. The Snap Stamp will hold all stamp shapes, including circle and square face styles.
The Noteworthy Snap Stamp allows customers to personalize their mailing envelopes, personal stationery, holiday cards and books with their customized design. Inside the large Snap Stamp design collection, customers can choose from a variety of designs based on personal interests and style including everyday stamp designs, holiday stamp designs, licensed collegiate stamp designs, Greek stamp designs and pet stamp designs. "After choosing their Snap Stamp face design, customers can personalize their stamp with their own monogrammed initials, name, home or business address or a favorite phrase," says Derek Stockman, Vice President of InvitationBox.com, "Once a customer has purchased their initial Snap Stamp base, they can purchase separate stamp faces at a lower price rather than purchasing multiple stamp bases, as with the original self-inking stamp."
Customers will also have the opportunity to choose from a variety of Snap Stamp accessories including colored ink pads, ink bottles and colored stickers to use with their Snap Stamp impression. InvitationBox will now offer a Snap Stamp Gift Box which gives customers the opportunity to purchase a Snap Stamp as a gift for a friend, co-worker or relative. "The Snap Stamp Gift Box includes a Snap Stamp base along with a coupon code to our dedicated Snap Stamp website allowing the gift recipient to choose their own stamp face design," says Jonathan La Nasa, President of InvitationBox.com, "Once the recipient personalizes their Snap Stamp face it is delivered to their residence for free. It's the perfect one-of-a-kind gift item for the holidays as the recipient can choose their own Snap Stamp face design that coordinates with their unique style."
Each Noteworthy Snap Stamp face allows for up to 14,000 impressions with designs featuring sports, college mascots, floral patterns, bridal designs, traditional holiday icons and special interest designs. As a gift item or a personal purchase, the new self-inking Snap Stamp is the perfect item adding personalization to any personal or corporate office.
###