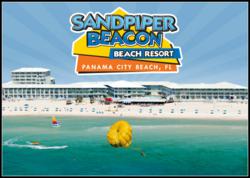 Spring Break is part of our DNA
Panama City Beach, FL (PRWEB) October 31, 2011
Preparations to improve upon the success of Spring Break 2011 are gaining momentum with Collegiate Marketing Group and the Sandpiper Beacon Beach Resort. The challenge is to make the Panama City Beach Fl Spring Break 2012 experience greater than ever before. In 2011, Panama City Beach hosted over half a million students, along with several of MTV's popular reality show celebrities.
"Although Panama City Beach is about much more than just Spring Break, spring is one of our peak travel times of the year and is part of our DNA," says Dan Rowe, president and CEO of the Panama City Beach Convention and Visitors Bureau.
"The challenge we are facing now is how to successfully reach and appeal to the tech-savvy generation," according to Patrick Hazard, General Manager of the Sandpiper Beacon Beach Resort. The resort is currently experimenting with a social-based, interactive campaign to reward guests who book their Spring Break reservations early. So far, early adoption rates suggest the incentive will translate into a significant impact on bookings. The results will also be available to help shape future campaigns designed to reach out and target the same audience.
As a whole, the Spring Break 2012 marketing campaign will feature an increased presence on social networking sites, promoting and relaying news and updates about Spring Break. The Sandpiper Beacon has also introduced a blog, which informs readers about current Spring Break news and area information on 'what to do' and 'where to party'.
In addition, several businesses in the community are working in close partnership with Collegiate Marketing Group, LLC, who are reaching out to celebrities and major national brands wishing to reach the 17-34 year old demographic to build brand loyalty.
Panama City Beach Fl is one of the few beach destinations able to appeal to different audiences throughout the year. The website springbreakfunplace.com, operated by the Sandpiper Beacon, is a key tool in promoting the Spring Break destination to college and university students around the world.
As 2012 draws closer, the momentum of promotional efforts is expected to increase, as more Spring Breakers make their travel plans.
The Sandpiper Beacon Beach Resort is located in Panama City Beach, Florida. Known as the "fun place" the Sandpiper is committed to value; offering so many activities, amenities, and so much entertainment, that guests never have to leave during their vacation. Find out more at http://www.springbreakfunplace.com
###