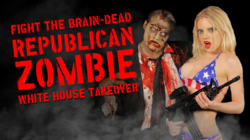 Gory, Comically Violent Video Shows Supporters Fighting Brain-dead Zombies Opposed to Marriage Equality
Los Angeles, California (PRWEB) October 31, 2011
RepublicanZombieDefense.com, a humor-tinged Democrat activist website today released a controversial Halloween video portraying marriage equality opposition as brain-dead zombies. The comically bloody and graphic video is set on the White House lawn and features Obama 2012 activists beheading, exploding, and maiming politically conservative zombies with machineguns, grenades, garden shears, and chainsaws.
Commentaries on gay marriage and other issues are punctuated with geysers of blood, dismemberment, and explosions as Democratic activists are shown defending President Obama's White House from Republican presidential zombie voters.
"We are gay activists giving zombies makeovers with chainsaws and grenades," said Luke Montgomery, founder of RepublicanZombieDefense.com. "The metaphor of Republicans as zombies is unfortunately very appropriate because their heartless opposition to gay marriage, healthcare, and climate change science is a political infection that if not fought back, will be deadly to the lives of millions of Americans. It is unbelievable that we live in an age when millions of Americans continue to be denied the right to marry, based on their sexual orientation. Progress is being made to eliminate this archaic way of thinking, but allowing Republicans to take the White House in 2012 will deal a huge setback to marriage equality."
The new RepublicanZombieDefense.com video features comically graphic scenes that gut Republican stances on political issues. The issue of gay marriage takes center stage in a scene that pits a valley girl-accented woman plunging a chainsaw into a zombie opposed to gay marriage.

Sound byte: "If you really wanted to protect marriage, you would ban divorce for straight people."
The video is produced by Luke Montgomery, creator the F-bomb filled FCKH8 videos that have been seen by millions of people online. A gay activist since his teens, Montgomery once briefly changed his name to "Luke Sissyfag" and has been named one of Advocate Magazine's 40 under 40 for his earthquake relief work in Haiti.
This video is also the first in a series from RepublicanZombieDefense.com, which is comprised of Obama 2012 activists. Using funds received through branded memorabilia, including t-shirts, bumper stickers, and wristbands, the company will continue to produce creative political video campaigns and live events targeting Republican candidates.
To view the full assortment of memorabilia for sale to help the campaign, please visit http://www.republicanzombiedefense.com. The company will also be holding frequent giveaways via its Facebook and Twitter pages and is encouraging all viewers to spread the word.
Helpful links
http://www.republicanzombiedefense.com
Twitter: @stopzombies2012
Facebook: http://www.facebook.com/republicanzombiedefense
YouTube: http://www.youtube.com/RepubZombieDefense
Vimeo: http://vimeo.com/31317754
About RepublicanZombieDefense.com
RepublicanZombieDefense is a humor-tinged political activist website that supports the Democratic campaigns and issues. The company produces controversial viral videos and live events that support these political issues, as well as branded memorabilia.
The website was founded by Luke Montgomery, an American political activist and is not officially endorsed by the Obama 2012 campaign.
# # #