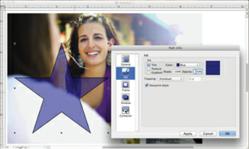 Peoria, Illinois (PRWEB) October 31, 2011
MultiAd announces the release of its latest version of its desktop publishing software Creator Professional 8.5, which contains numerous upgrades and enhancements. These new features allow Creator Professional 8.5.3 users to efficiently create marketing collateral through a combination of design, illustration and production tools without expensive add-ons.
A key new feature in Creator 8.5.3 gives users the ability to open Adobe® InDesign Interchange® files, allowing greater accessibility for document access.
Additional user updates include the ability to create soft shadows that output in CMYK, utilize variable opacity for solid colors on an element's frame, fill and shadow, set any element with a global text wrap for any text block and much more.
"We continue to evolve Creator Professional based on the feedback from our customers," said Brian Dickerson, vice president of product development. "These key capabilities allow Creator Professional to be more competitive in the marketplace while continuing to be an affordable tool ideal for high-production environments."
Creator Professional excels in producing advertising, marketing and promotional documents through a full set of design and productivity features. It combines premium page-layout capabilities with drawing, illustration and image-manipulation tools so users can assemble documents quickly and professionally.
MultiAd's Creator Professional is one of the few programs on the market that is fully scriptable for Mac OS and Windows. It includes a dynamic set of time-saving tools allowing users to script frequently used actions and commands. A comprehensive list of updates and a demonstration download are available at MultiAd's Creator Professional product information page.
About MultiAd:
Since 1945, MultiAd® has been a leading provider of advertising products and services with a progressive, client-centered approach. MultiAd offers a portfolio of solutions designed to increase productivity and revenue including: mobile application development, custom web application development, Creator Professional, Creative Outlet, Recas®, Kwikee®, ePublish (interactive online versions of print publications) and several self-service advertising solutions. For more information on MultiAd, visit http://www.multiad.com.
Note: MultiAd, Kwikee and Recas are registered trademarks of MultiAd, Inc. Adobe and InDesign are registered trademarks of Adobe Systems Incorporated of the United States.
###