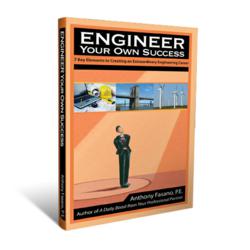 I highly recommend Anthony's work to friends and associates whether engineering related or not. His topics are applicable for anyone in their career (young or old)."
Ridgewood, NJ (PRWEB) October 31, 2011
Fresh on the heels of the tremendous success of the release of his first book, Engineer Your Own Success: 7 Key Elements to Creating An Extraordinary Engineering Career, Anthony Fasano has hit the ground running. In conjunction with his book tour, Fasano has been busy delivering a sixty-minute seminar of the same name to eager engineers, providing them with the steps needed to advance their career in their chosen profession. This seminar is designed specifically for the engineering sector and includes valuable points and examples that engineers can start using immediately to advance up the corporate ladder.
Having visited 9 cities in 7 different states in the past 8 weeks, Fasano has received resounding accolades from attendees at these seminars. Crisscrossing the US, Fasano enjoyed well-attended signings/presentations, from both the East Coast (New Jersey, New York, Philadelphia), through the Bible Belt (North and South Carolina, Memphis, TN), ending up on the West Coast in Anaheim, CA on October 28th. Here are just a few of the accolades Fasano has garnered from his presentation:
"Anthony's seminar offered sound advice tailored to engineers that has been difficult to come by in my university's career center. I left eager to improve my resume with his tips." - Taylor Steindel, Engineering Student at Duke University, Durham, NC
"Anthony presented an abbreviated version of his new book, "Engineer Your Own Success" to our local chapter of NSPE. We sent out an e-mail blast a week ahead of time and typically have around 35-40 people at each meeting, with Anthony we had 80! The topics are relevant, interesting, and very useful. People want to hear or learn what Anthony is promoting…how to advance your career. Anthony is very professional and knows his subject very well. He was one of the best speakers we have had at our meetings. I highly recommend Anthony's work to friends and associates whether engineering related or not. His topics are applicable for anyone in their career (young or old)." - Jason Vaughn, PE, Life Sciences Manager, S&ME, Inc., Greenville, SC
Says Fasano, "I am thoroughly enjoying giving presentations that correlate to my book Engineer Your Own Success: 7 Key Elements to Creating an Extraordinary Engineering Career. It never ceases to amaze me how many engineering professionals are so eager to learn how to develop their soft skill sets in order to create a career they can enjoy. Having students, professors, and practicing professionals approach and thank me after hearing the many points I cover in my seminar is simply added confirmation that the information I've written about is definitely needed in the engineering and business world."
Anthony's goal is to help engineers and technical professionals to develop their non-technical skills, become better rounded, and create extraordinary careers. He plans on continuing to speak to organizations all over the world through both live talks as well as webinars.
For more information on booking Fasano or to learn more about this stellar presentation, please visit http://powerfulpurpose.com/ or contact him at info(at)powerfulpurpose(dot)com.
Anthony Fasano, AKA Your Professional Partner, CEO and founder of Powerful Purpose Associates, is a nationally recognized professional coach and inspirational speaker specializing in the areas of business growth and career development, as well as leadership skills. Fasano has been a keynote speaker at hundreds of events and has had a huge impact on many professionals including engineers, engineering organizations, community groups, Chamber of Commerce's, and small business owners. Fasano sends out brief but powerful daily e-mail message to professional's worldwide called A Daily Boost from Your Professional Partner, which help inspire professionals to career success. To sign up for these motivational tips, go to http://www.PowerfulPurpose.com.
# # #