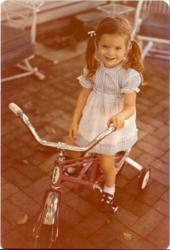 "More children taking bike education classes means more people biking and a safer environment for everyone!" Kaitlyn Stout
Kansas City, Missouri (PRWEB) October 31, 2011
The Kansas City region has a generation of children who are lost without the automobile. They are driven to school in the back of cars and are dangerously illiterate when it comes to traffic signals, crosswalks and navigating intersections. School districts are pulling bus programs due to lack of funding and families are stretched to the limit during these hard economic times. Children must go to school, and it is part of BikeWalkKC's mission to help the children in the Kansas City Region walk and bike safely to school.
BikeWalkKC's nationally recognized staff is working with local schools and families to fix this situation. Earlier this month thousands of kids across the region joined BikeWalkKC on International Walk to School Day - the regions most successful International Walk to School Day thus far.
This year BikeWalkKC's education program has reached over a thousand people across the metro area. BikeWalkKC teaches children about helmet safety, rules of the road, how to remain visible and bike maintenance. The tools children learn in bike class also help children in life. Children learn advocacy, patience and the value of teamwork. In addition to working directly with children, BikeWalkKC teaches schools and other nonprofit groups about "walking school busses", bike and traffic parking lot safety, and how to do comprehensive walking and biking neighborhood assessments.
BikeWalkKC's classes have gone to the Whatsoever Community Center in Old Northeast, Lee's Summit summer day camp, Overland Park Farmers Market, the KC North Community Center, and in many other communities around the region. Walking to School benefits kids, parents, schools and neighborhoods alike. Walking to school encourages activity before school and prepares children for their day. Walking to school also teaches children how to navigate streets and traffic. Walking and biking to school is good for the environment around schools because it cuts down on the air pollution around schools from the car pool lines and it creates a sense of community around neighborhoods when children are walking and biking to school.
BikeWalkKC envisions a Kansas City where our walking rates are above the national average where children outlive their parents and walk and bike safely to school. BikeWalkKC has taught a thousand children in less than a year. Now we need your help to reach the next thousand. Learn more and donate to the next 1000 program at BikeWalkKC.
BikeWalkKC is the unified voice for active living, promoting a healthy, safe and accessible outdoor experience for all in a vibrant, engaged community. BikeWalkKC is a member-supported organization that works to make Greater Kansas City a safer and more accessible place to walk, bicycle, live, work, and play. The advocacy programs work with local cities to improve policies and build sidewalks, trails, crosswalks, bike lanes, and more. BikeWalkKC's education programs give people the knowledge and skills to walk and to bicycle safely and confidently for transportation, recreation, and fitness. Learn more at BikeWalkKC.org.
###