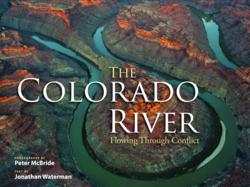 "We have subverted nature by playing god with America's most iconic waterway." Jonathan Waterman, author of The Colorado River.
(PRWEB) October 31, 2011
The Colorado River: Flowing Through Conflict is an unprecedented photographic journey from source to sea along the imperiled Colorado River by acclaimed photographer Peter McBride and author Jonathan Waterman.
The Colorado River has been called the Nile of North America. It is not the longest or the largest river in the United States, but it is arguably our most iconic, beginning as a trickle of snowmelt in 14,000-foot peaks above Rocky Mountain National Park and winding through some of the most majestic landscapes in the Southwest, most notably the Grand Canyon. It is also our most contested and imperiled. Hundreds of dams and diversion projects siphon off 16.5 million acre feet of water annually to 30 million people in seven states and the West's biggest cities, including Denver, Phoenix and Los Angeles. So great is the thirst for water that each drop of the Colorado River is reused eight times on its 1,450-mile journey downstream.
But most sobering of all is this fact: The Colorado River no longer reaches the sea. The last time it flowed into the Sea of Cortez was 1998. Since then, a decade of drought and increasing demands for water have transformed its once-lush delta into a bleak expanse of cracked mud and toxic cesspools.
In 2008, conservationist and award-winning author Jonathan Waterman and prolific adventure photographer Peter McBride teamed up to document the Colorado River from its headwaters, in Colorado, to its depleted delta in Mexico. Over the course of seven months, Waterman, a veteran of dozens of wilderness expeditions—including a 2,200-mile solo kayak traverse of the Northwest Passage—made what is thought to be the first source-to-sea descent of the river. Traveling by kayak, whitewater raft, and ultimately by foot, he explored the length of the Colorado from its high alpine headwaters, through 1.8 billion year old rock walls in the Grand Canyon, and past irrigation-intensive farmlands of California's Imperial Valley. Just over the border in Mexico, the Colorado River ran dry, and Waterman was forced to hike his boat and gear 60 miles to the sea.
He was joined on different legs of the journey by McBride, who spent more than two years photographing the Colorado River from every imaginable vantage point: 200 feet above the ground in a single-engine prop plane, at eye-level with roaring rapids in a whitewater raft and underwater. As a result, The Colorado River: Flowing Through Conflict is a stunning, comprehensive, and deeply reported volume, a tribute to the river's grandeur and vulnerability, as told through the eyes of two acclaimed journalists intimately connected to the river and its watershed.
Raised on a cattle ranch outside of Aspen, where his family irrigated their hayfields with run-off from the Roaring Fork River, a tributary of the Colorado, McBride had first-hand awareness of where his water came from—and an insatiable curiosity about where it went. As a photographer, he has documented water issues on six continents for National Geographic, Smithsonian, Outside, and numerous other national publications. Waterman, too, spent much of his professional career reporting water stories, and has received grants and honors from the National Geographic Expedition Council, the National Endowment for the Arts, the American Alpine Club and the National Park Service.
The Colorado River: Flowing through Conflict is both an inspiration and an imperative. As drought and climate change intensify in the West, the Colorado River faces threats from all sides: If water levels continue to decrease, its reservoirs, including Lake Powell and Lake Mead, are at risk of filling with sediment, drying up, and becoming inoperable "dead pools"—perhaps as soon as 50 years from now. Economic, cultural and ecological life along the river corridor will suffer dramatically, too.
Fortunately, as Waterman and McBride reveal, there are solutions: Conservation groups, including the Sonoran Institute, are raising money to buy back water rights to ensure that the Colorado once again reaches the sea; even a 1 percent increase in water would create steady year-round flow. Las Vegas, which receives 90 percent of its water from the Colorado, pays residents to replace lawns with drought-tolerant landscaping. And the International Boundary and Water Commission is facilitating cooperation between the U.S. and Mexico to restore the barren delta.
Whether you live within the 243,000 square miles drained by the mighty river or eat the lettuce and carrots irrigated by its water each year, we are all responsible for the future of the Colorado River. The Colorado River: Flowing through Conflict is an extraordinary, awe-inspiring call to action by two of the river's most impassioned and knowledgeable advocates.
For more information or to schedule an interview with one of the authors, contact Clare Hertel at clare(at)clarehertelcommunications(dot)com or (505) 474-6783 office or cell (505) 670-3090.
Link to a short video about the book: http://vimeo.com/16448740
###