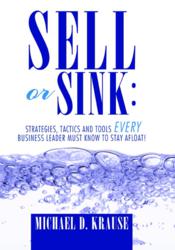 Sell or Sink helps sales professionals of all experience levels improve their sales performance
Rochester, NY (PRWEB) October 31, 2011
Michael D. Krause, Chief Sales Architect of Sales Sense Solutions, Inc. recently spoke with Steve Jorgenson, host of AuthorTalk for Toginet.com, a premiere on-line talk radio production company, about his latest book, Sell or Sink.
During the interview, Krause revealed the eight biggest sales performance secrets that are explained in Sell or Sink. "Most salespeople get into the business but may never have had formal sales training to help them make the most of their sales performance," Krause explained.
"Sell or Sink is a combination reference manual and workbook so that a professional sales person -- whether they're an entrepreneur or working in a Fortune 500 company -- can master the most essential steps in selling for themselves and start making more money immediately," Krause continued.
Sell or Sink is available in hard cover or soft cover from Amazon.com, Barnes & Noble online and from the Sell or Sink site as well as from AuthorHouse, In addition, an audio book is available from Sell or Sink directly.
About Mike Krause and Sales Sense Solutions, Inc.
As a recognized sales thought leader, Mike Krause inspires business leaders and sales professionals of all generations – from the most experienced to the newest rookie on the team – to maximize their personal and professional potential. Mike shares his proven strategies for sales success in his book, Sell or Sink: Strategies, Tactics and Tools Every Business Leader Must Know to Stay Afloat! Learn more at http://www.SalesSenseSolutions.com and http://www.SellOrSink.com.
About Toginet:
Toginet.com is the premiere on-line talk radio production company in the industry, committed to providing excellence in live show production quality podcasts and re-podcast accessibility. The company's brick and mortar studio is based in Tyler, TX where the company's full production staff works to create customized interfaces, live commercials and CD quality sound for over 70 talk radio hosts, in varying genres. Toginet Entertainment offers quality shows for serious hosts.
###