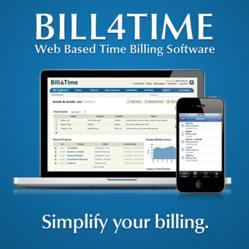 We find Bill4Time to be easy to use and very time and cost efficient. The many features allow billing flexibility and integration with our QuickBooks system. We love it
Bellevue, Washington (PRWEB) October 31, 2011
With the recent announcement of the discontinuation of QuickBooks Time Tracker and QuickBooks Time & Billing, Bill4Time is an alternative solution for Intuit customers seeking a time tracking and billing solution. QuickBooks Time Tracker and QuickBooks Time & Billing customers will have access to their accounts until December 1, 2011 but must find a solution thereafter. Bill4Time is offering 3 free months of Bill4Time and free data transfers from the Time Tracker and Time and Billing system to the Bill4Time platform.
Bill4Time has helped thousands of businesses since its initial release in 2006. Compatible with QuickBooks, Bill4Time is an online invoicing and time tracking service designed for small and medium sized businesses and independent professionals which also offers project management, expense tracking, and invoicing. Bill4Time is a complete time billing software.
Bill4Time Features:

Track time & expenses (via online, the mobile app or desktop widget)
Easily create, send and manage invoices
Send invoices by email or print and mail
Accept online payment with PayPal
Create robust reports and connect with QuickBooks
Includes project management features and a scheduler
Due to QuickBooks billing and invoicing limitations, many firms choose to also use time and billing software for their time tracking, billing and invoicing requirements. The Bill4Time QuickBooks Connector application permits firms to keep all financial accounting activity including clients, invoices, balance adjustments and payments synced with QuickBooks.
"We find Bill4Time to be easy to use and very time and cost efficient. The many features allow billing flexibility and integration with our QuickBooks system. We love it." -- George Tamblyn, Advocates Law Group, Lacey, WA
New customers wanting to take advantage of the 3 free months simply need to enter "QuickBooks" into the "How Did You Hear About Us?" field on the sign-up form. For more information visit http://www.Bill4Time.com.
About Bill4Time
Developed with the guidance of law and consulting firms, Bill4Time is a leading web-based time billing software serving both small and large professional service firms. With offices in New York, NY; and Bellevue, WA, Bill4Time has created simple-to-use and intuitive software at a fraction of the cost of other billing systems. With strong focus on convenience, Bill4Time offers anytime, anywhere online account access, mobile apps and a desktop widget. Bill4Time's goal is to streamline the time tracking and billing aspect of business so professionals can focus more on what they do best.
At Broadway Billing Systems, we pride ourselves on our close relationships with our customers, whose direct feedback helps to shape the direction of enhancements and features. We strive to provide quality software backed by knowledgeable and responsive customer support.
# # #