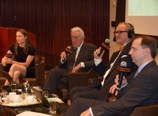 Rye Brook, NY (PRWEB) October 31, 2011
Doral Arrowwood Conference Center, the premier meeting destination in the New York metro area, hosted a unique "live remote" special edition of Bloomberg Surveillance, with anchors Tom Keene and Ken Prewitt on Wednesday, October 26. Keene and Prewitt were joined by guests Drew Matus, a Managing Director and Senior US Economist for UBS, and Ellen Zentner, Executive Director and Senior Desk Economist for the US at Nomura, the global investment bank. The event, held in one of Doral Arrowwood's state-of-the-art multimedia conference rooms and attended by an exclusive audience of Bloomberg insiders and special guests, was broadcast live on Bloomberg Radio 1130AM in New York. Bloomberg Radio reaches approximately 500,000 local listeners per week and can also be heard on SiriusXM with an audience of 21 Million Satellite Subscribers. Newly launched Bloomberg Radio+ App already has more than 100,000 downloads.
Hosts Keene and Prewitt ushered their panelists through a broad-ranging discussion, including the health of the US economy, housing and labor markets, the effects of the European economy on US business, and the prospects for change in personal financial health. The live broadcast coincided with the EU announcement of their plan to contain the debt crisis. Matus and Zentner also answered questions from the audience through the lens of their unique perspective on fiscal and monetary policy, macroeconomic outlook, and market trends. The broadcast was followed by a cocktail reception, with the type of lively conversation among the audience, hosts, and panelists that Bloomberg is known for.
"Doral Arrowwood is proud to be selected by Bloomberg Radio for both our exceptional conference facilities and service," said Steve Mabus, General Manager of Doral Arrowwood.
"Serious times call for serious meetings. We understand that here at Doral Arrowwood and provide everything our conference guests need so they can focus on the business at hand."
The broadcast can be accessed by visiting http://www.bloomberg.com/podcasts/surveillance/. For more on Doral Arrowwood, please visit http://www.doralarrowwood.com.
About Doral Arrowwood
Doral Arrowwood, located just 45 minutes north of Manhattan and five minutes away from the Westchester County Airport, provides both business executives and leisure travelers alike the ultimate in privacy at an unsurpassed location. The property is nestled on 114 wooded acres, surrounded by a magnificent Robert von Hagge designed golf course. Guests can enjoy a wide range of activities including golf, tennis and racket sports.† The hotel offers 373 guest rooms (including seven suites), three distinct restaurants, a spectacular indoor-outdoor pool and state-of-the-art sports center with spa services such as massages and facials.† The facility boasts 33 custom-built meeting rooms and an elegant 6,500 square foot grand ballroom for corporate and special events. To learn more, visit http://www.DoralArrowwood.com.
###