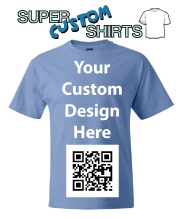 The act of wearing a family shirt can create a sense of unity
San Diego, California (PRWEB) October 31, 2011
With the holiday season upon us, families across the nation have begun planning holiday gatherings to bring people together and strengthen family ties. In addition to the religious and cultural roots of Holiday celebrations, these gatherings of family and friends are among life's most precious opportunities for bonding. David Hall of SuperCustomShirts.com recently discussed with School Psychologist Janelle Kay the benefits and opportunities involved with creating family themed custom t-shirts.
"The Holidays are a time when strong feelings and lasting memories are created," says Janelle Kay, a school psychologist who works with kids from ages three to twenty-two. "One of the best exercises a family can do to embrace family unity is to create family custom t-shirts."
"Custom printed shirts give a family multiple opportunities for fun interactions and bonding experiences. First you sit down at the computer and pick the shirt style and color. Then you create and/or upload the shirt design. It's a fun process that will let the child, whether young or teenager, to give input and be heard, this shows the child that they are respected," says Mrs. Kay.
"At a family get together, the act of wearing a family shirt can create a sense of unity, a feeling of being part of the family team. For children that may have emotional problems, learning difficulties, or that may be going through a difficult time, the symbolic association of a simple family t-shirt can be profound. For teenagers who may be in a rebellious period, even wearing a family shirt underneath a sweater will reinforce a family connection."
While numerous companies exist that specialize in creating custom t-shirts, one of the best priced and easiest to use is SuperCustomShirts.com. Simply choose the style of shirt and "Click to Customize". The simple online design tool will allow you to design the front, back, right sleeve and left sleeve and have your family custom t-shirts delivered just in time for this holiday season. To get started, visit: SuperCustomShirts.com
Super Custom Shirts is a custom silk-screen printing and embroidery business located in San Diego, California that has served Custom T-Shirts, Apparel and Accessories needs across the nation for over 35 years.
# # #