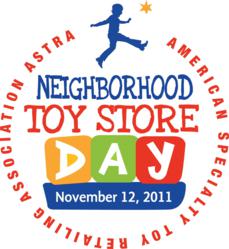 Buying local not only supports my community, but also allows me to find toys and games that aren't available at major retailers. - Kelly Whalen, blogger at The Centsible Life
Philadelphia, PA (PRWEB) October 31, 2011
Toys and Treasures. Clowns and candy. Musicians and magicians. Toy stores across the country will celebrate the joy of play on Neighborhood Toy Store Day. On November 12, 2011, mom bloggers across the country plan to join the American Speciality Toy Retailing Association (ASTRA) on Twitter to support their neighborhood toy stores.
As small business owners, bloggers understand the importance of supporting local businesses. As moms, they have seen the many advantages of shopping at specialty toy stores. These bloggers will use their social media klout to encourage their readers to shop local this holiday season. Angela England, who blogs at UntrainedHousewife.com and BlissfullyDomestic.com, prefers supporting local businesses rather than shopping online or at big box stores. She explains, "The local businesses know me and are willing to go the extra mile for customer service. You see the owners at the grocery store or out and about and know they are real people. And they know you and your family. It's not something you can get at a big box store."
Bloggers are trusted by their readers to recommend the best toys and gifts for the holidays. Moms know that the best toys are those that encourage imagination and play. Debbie Bookstaber of Mamanista.com and Bloganthropy.org explains, "Many of the best toys are not be advertised on TV, but I can count on the friendly store owner to provide expert advice on the best gifts for the kids on my holiday list." In fact, toy experts from around the country get together to pick the best toys of the year based on watching kids play with them in their stores. The result is the Best Toys for Kids list published by ASTRA.
With Tweets, Facebook messages and blog posts encouraging readers to buy Best Toys for Kids Award Winners, mom bloggers are voicing their support for their neighborhood toy stores. Kelly Whalen of TheCenstibleLife.com adds, "Buying local not only supports my community, but also allows me to find toys and games that aren't available at major retailers."
These influential mom bloggers are concerned that many toy stores may not survive the holiday season, and they are urging other moms to attend Neighborhood Toy Store Day celebrations on Saturday November 12, 2011. Kelly Raudenbush of My Overthinking.com writes, "As a small business owner myself, I know the value of supporting businesses right here in my backyard. I like having them here, and I want do what I can to help keep them around!"
These social media influencers also understand the importance of local toy stores in their community. Alissa Boyle of FunFindsforFamilies.com observes, "Taking the kids to the local toy store is about the experience. Not only do the kids enjoy playing with toys you can't find anywhere else, but the sales staff is knowledgeable and always willing to help us choose the perfect gifts. We love knowing our money is helping our community."
Mom bloggers plan to send tweets to @astratoy on November 12, 2011 to encourage other parents to keep their dollars circulating in their local community this holiday season. Consumers can visit http://www.neighborhoodtoystoreday.com to print the Best Toys for Kids list or to learn more about Neighborhood Toy Store Day celebrations in their city.
About Neighborhood Toy Store Day and the American Specialty Toy Retailing Association (ASTRA):
With more than 1300 members, the American Specialty Toy Retailing Association (ASTRA) is the largest association for companies in the toy and children's products arenas. ASTRA and its member companies promote the growth of the toy industry by delivering products that serve children's best interests. For more information, visit http://www.astratoy.org. Because Community Matters, ASTRA members thank you for shopping locally.
###