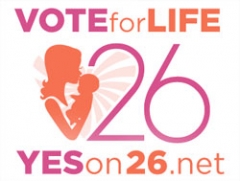 Mississippi voters are realizing that voting pro-life means voting for Amendment 26.
Jackson, MS (PRWEB) October 31, 2011
The new video, starring pro-life hero Lila Rose, unveils the latest sting operation to show Planned Parenthood deception to Mississippi voters.
The video begins with documented evidence that "Mississippians for Healthy Families" is funded and run by various Planned Parenthood organizations across the US; not local Mississippians. Planned Parenthood received nearly $350,000,000 in tax money from the government in 2008 alone.* Planned Parenthood-sponsored ads, under the guise of Mississippians for Healthy Families, claim that Mississippi's Personhood Amendment 26 will ban IVF, contraception, and birth control. Today, at a press conference featuring Mississippi doctors, the claims were refuted.
Calling attention to the birth control issue, a new video from Live Action released an audio recording in which Planned Parenthood, contrary to their claims in print and on television, admits that birth control will still be available after the November election.
The transcript of the call is as follows:
Planned Parenthood – Hattiesburg, MS
PP: Planned Parenthood, may I help you?
Caller: Oh, hi, I just had a question about the birth control pill and availability.
PP: OK.
Caller: I had heard from Planned Parenthood that the birth control pill wouldn't be available after the November election. I'm just a little confused, I'm getting mixed messages…
PP: Okay, so far as we know, birth control will still be available.
The new video from Yes on 26 then goes on to play audio from phone calls to other Mississippi healthcare professionals to get a straight answer – including the State Health Department in Jackson, Jeff Anderson Regional Medical Center in Meridian, River Oaks Hospital in Flowood, and a pharmacy in Aberdeen. One nurse even laughed at the notion that Amendment 26 would ban birth control.
"Planned Parenthood tried to keep this amendment out of the hands of the people of Mississippi by suing to remove it from the ballot. Now, after several cases of documented deceit on their part, Mississippians for Healthy Families is telling Mississippi voters to trust them. It sounds as if Mississippians for Healthy Families – better known as national affiliates of Planned Parenthood – doesn't trust the people of Mississippi to vote on this issue, or to deserve the truth," stated Keith Mason, President of Personhood USA. "As we draw nearer to election time, Mississippi voters are realizing that voting pro-life means voting for Amendment 26. They won't be distracted by the propaganda put out by Planned Parenthood. Amendment 26 is by the people of Mississippi, for the little people of Mississippi - all people have rights in Mississippi."

###