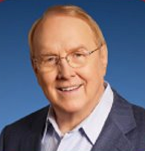 Dr. Dobson is more concerned than ever about the important developmental, cultural, and spiritual challenges with which families in the 21st century are contending.
Colorado Springs, CO (PRWEB) October 31, 2011
Less than two years old as an organization, Family talk is already widening its radio broadcasting and internet ministry using channels of digital communication and outreach presentation. The daily radio broadcast, Family Talk with Dr. James Dobson, co-hosted by Dr. Dobson, LuAnne Crane and Ryan Dobson, is now heard on over 700 U. S. Stations and online at the Family Talk website. The original website http://www.myfamilytalk.com has now been significantly upgraded as well as enhanced with many new online features. Facebook and Twitter platforms, special email updates are regularly provided; and in 2012 a mobile Digital Family Ministry package will be available.
Dr. Dobson is more concerned than ever about the important developmental, cultural, and spiritual challenges with which families in the 21st century are contending--challenges that seem greater than ever before in history. He continues to sense God's call on his life to help minister to parents and their children as they strive to establish and preserve loving, caring homes based on Biblical wisdom and truth.
Following Dr. Dobson's February 2010 departure from Focus on the Family, where he had served for three legendary decades as founder and president, Dr. Dobson launched a brand new communications ministry, Family Talk, where he continues to offer help to families.
Another new feature at Family Talk is the dynamic Solid Answers section of the website. Here people can bring their personal family questions and issues and find proven advice and counsel from Dr. Dobson.
A wide range of inquiries about marriage, parenting, education, cultural issues and many more are addressed at Solid Answers. Questions such as, "Should We Create a Blended Family?" or "How Do Our Differing Assumptions Cause Marital Conflict?" or "What Ways Can I Help My Child Prepare for Adolescence?" or "Would My Home-Schooler Ger Enough Social Interaction?" and many other issues are dealt with at Solid Answers.
Family Talk enjoys a growing, high-engagement Facebook presence with robust interactions. You can find them at http://www.facebook.com/myfamilytalk .
Family Talk has also expanded the use of 90-second audio commentaries featuring Dr. Dobson's insights and counsel, by developing the commentaries as the basis for some newly-produced captivating video presentations. These are available on the Family Talk website at: http://myfamilytalk.com/commentary-videos .
A Family Talk Care center compliments the radio and web outreach providing a means for people to call toll-free for prayer or simply to talk to someone with understanding and insight: 877-732-6825.
In August 2011, Family Talk was granted membership in the Evangelical Council for Financial Accountability. The ECFA requires adherence to very high-level accountability standards and practices for all of its non-profit members, including mandating annual audited financial reports, IRS report availability, and many other policy regulations. For more details see the Family Talk profile on ECFA's website: http://www.ecfa.org/MemberProfile.aspx?ID=30233
____________________________________________________
Dr. Dobson began his "family focus" as an Associate Clinical Professor of Pediatrics at the University of Southern California School of Medicine, serving 17 years on the Attending Staff of Children's Hospital of Los Angeles in the Division of Child Development and Medical Genetics. he earned his Ph.D. from the University of Southern California (1967) in the field of child development.
With that platform of credentialed expertise, Dr. Dobson turned to writing; his first volume (Dare to Discipline) becoming a best-seller -- as did those which followed including The Strong-Willed Child; Love Must Be Tough; Life on the Edge; Night Light for Parents and When God Doesn't Make Sense. In April 2010, Bringing Up Girls ( a much anticipated companion to the popular Bringing Up Boys, 2002) was released.
Reference
###