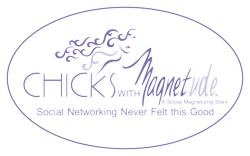 New York, New York (PRWEB) October 31, 2011
Doreen Carrie will be launching a new social networking site, Chicks with Magnetude®, late November 2011. This site is the culmination of developing a mission for over 20 years, by helping transform individuals into energy responsible people. Doreen's Magnetized Mission took a solid stand during the birth of her daughter. In 1995 the idea of shifting energy – although as natural as breathing- was as far cry from the norm. But living, teaching and watching lives transform effortlessly, left Doreen with only one way to raise her child; Energy Responsible and Magnetized.
EE for Life, LLC creates Social Magnetizing Sites® and is revolutionizing the power of social networking. EE – transforming your life without interrupting your day – has been called the antidote for stress and the foundation of a new generation. Its effects are instant, ageless and timeless. It is not only the most abundant way to live, it is the most joyful. With abundance and joy come ultimate health. The irony of it all considering its benefits, is that EE is so simple a child can learn it….but so effortless an adult can live it! Even though this sounds like a new concept, the principles behind EE, or Effortless Effectivness, have been around forever, Doreen has made it her Mission to teach people how to utilize this lifestyle principle.
EE, is a way of being, a way of going through the daily routines of life, but being aware of our energy, listening to our intuition, and using our imagination. The biggest hurdle was figuring out how to Teach EE and have it be EE.
Through EE for Life, LLC Doreen has founded Chicks with Magnetude®, a Social Magnetizing Site® designed as a solution for women to remove the struggle from their lives, block by block. A little unconventional, a little sensual and a little girls night out, this social magnetizing site is all about the energy of woman. Chicks with Magnetude® takes the power of Social Networking and the energy of women and puts them together in a fun, interactive and transforming site.
To learn more about Doreen Carrie and her mission, please visit doreencarrie.com. You can also learn more about Doreen Carrie's company EE for Life, LLC by visiting eeforlife.com.
For all Press/Media Questions:
Contact: Sarah Jane Arnegger
Phone: 631-678-7839 Email: Sarahjane(at)chickswithmagnetude(dot)com
# # #