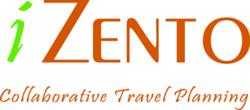 Our registered travel pros understand the need to augment their existing toolset with iZento's advanced capabilities to adapt to today's travelers and ways of doing business
San Francisco, CA (PRWEB) October 31, 2011
iZento, a travel technology leader in developing collaborative platforms that enrich the traveler experience and increase revenue opportunities for travel professionals and providers, is pleased to announce that it has helped travel agents create more than 100,000 online trip itineraries in 2011 alone using the company's patented Trip Optimizer technology. The company is also pleased to reveal a 53 percent increase in the number of travel agents registered to use the iZento technology from Q1 to Q3 of 2011. iZento technology transforms reservation data and individual trip details into a comprehensive, interactive itinerary and marketing engine that travel agents can use to boost revenue from proposal through departure, and even post trip.
"From the earlier adopters of iZento technology to the increasing number of super-users, our registered travel pros understand the need to augment their existing toolset with iZento's advanced capabilities to adapt to today's travelers and ways of doing business," said Tony Del Favero, Vice President of Business Development for iZento. "Beyond the ever-so-important collaboration capabilities of iZento, our registered agents tell us that they are utilizing the functionality available via our patented technology to attract new customers, drive bookings, build add-on sales, and create the wow factor that keeps clients returning to book future trips with them."
iZento technology is utilized by savvy agents across the sales cycle as follows:
-- Pre-sale - Templates to deliver unique, personalized proposals in minutes that increase conversion rates; Promise of comprehensive itinerary deliverable as driver/differentiator to book
-- Post-sale - An interface used to collaborate with and market add-ons to clients and benefit from the $ 26.8 billion U.S. travel activities market, add destination content, customize branding and messaging, include real-time targeted ads and offers, and virally market via integrated Facebook postings
-- Customer management - iZento's unique collaborative capability empowers participation by the client, enabling effortless collection of key profile data for future targeting
-- Personalization - Auto-generated, highly-personalized interactive itinerary based on a traveler's booking choices that can be printed from a computer, professionally bound as a handy take-along journal, or shared online and on Facebook
The iZento Professional service is a low-cost monthly subscription, per travel professional – with no long-term contract requirements or upfront costs. iZento Professional's agent-focused tools include priority access to an extensive database of cruises, air travel options, destination information, activities, events and more that can be incorporated into an itinerary with a few simple clicks. Travel specialists can brand iZento's trip journals with their own company logos and marketing messages to provide a personalized touch for their clients as well as high quality collateral pieces that enhance their professional appeal. For more information about iZento Professional and to sign up for a no-obligation 30-fay FREE trial, go to iZento.com/travelpro.
Beyond it's the iZento Professional platform for travel agents, iZento recently announced the launch of its Travel Provider Platform that enables travel companies of all sizes – from tour operators, cruise lines, and other packagers of travel – to consolidate individual elements of a travel booking including air, hotel, cruise, rail, insurance, tours & excursions "behind the scenes" and transform them automatically into a comprehensive itinerary. A significant advancement beyond travel organizers or brochure-ware, iZento's Travel Provider Platform is intelligent — it "auto-creates" an interactive itinerary and journal in real-time with nearly unlimited personalization options that can be designated by the provider. Each one-of-a-kind itinerary represents a personalized marketing and selling platform combining branding, sharing, printing, advertising, upselling, and social media functionality.
Utilizing proprietary technology developed and tested with feedback from travel industry professionals over a period of over 3 years, the new iZento Travel Provider Platform ensures functionality for even the most complex itineraries -- including multi-destination programs, cruise + land packages and FIT bookings. The platform is modular and can be customized to each travel provider's specifications with minimal impact on a company's development team, delivering complete implementations in as little as 60 days. The iZento Travel Provider Platform offers the most extensive feature set to accommodate unique travel requirements and can be used by companies to:
-- Transform raw data into an interactive itinerary and marketing engine
-- Aggregate data to make it easier for customers to interact and purchase
-- Increase site page views and transactional potential
-- Provide an incremental sales platform for advertisers
-- Increase sales of extras and upgrades
-- Monetize the entire sales cycle from pre-planning to ads in post–travel keepsakes
More information about the new iZento Travel Provider Platform can be accessed via the company's website at iZento.com, or by contacting Tony Del Favero, iZento's Vice President of Business Development, at 510-461-0944 or via email at tonyd(at)izento(dot)com.
About iZento:
iZento provides patented technology solutions for travel suppliers, travel agents and travelers. Established as the most comprehensive online travel planning and itinerary building service with tools and resources designed specifically for travel professionals, the company's subscription service for traditional and home-based agents continues to grow and provide travel specialists with a cost effective and easy-to-use option for building complex itineraries with swift efficiency.
iZento began delivering customized private label solutions in 2009. The new iZento Travel Provider Platform transforms a company's raw data into an interactive itinerary and marketing engine. Completely customizable, the iZento technology is now available to travel industry suppliers who are looking to differentiate their offerings and create new revenue streams.
For additional information on iZento technology for Travel agents, travel suppliers, and travelers, visit the company's website at iZento.com.
###