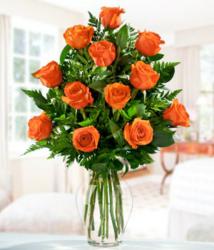 Thanksgiving flowers as a way to connect and include them from far away.
Miami, FL (PRWEB) October 31, 2011
Not every Thanksgiving is delightful. For those left alone on Thanksgiving Day, this holiday can be a turkey – and not the kind that's roasted. Fortunately, there's a way to make this festival of gratitude better for "orphans" – namely, by sending them Thanksgiving flowers.
"Thanksgiving is traditionally a family holiday," explains Francisco Bustos, CEO and President of daFlores.com. "It can get a bit lonely when you're far from your loved ones. The luckier 'orphans' get invited to friends' celebrations, but that doesn't always happen. For everyone else, we suggest sending Thanksgiving flowers as a way to connect and include them from far away."
Traditional Thanksgiving flowers come in golds and deep reds, but any flower arrangement will do the trick. Bright yellows and oranges are good colors for bringing cheer, the primary objective when sending to someone stuck alone on Thanksgiving Day. While daFlores.com does offer same-day delivery, that doesn't extend to major holidays. Planning ahead is required.
"When you surprise someone with Thanksgiving flowers, you're telling them you're there with them in spirit," says Mr. Bustos. "The blues can quickly overtake a person left alone on the holidays. Anything you can do to help the lonely, to keep in touch, is going to be welcome. If you make the gesture and order the flower arrangement, we can take care of the rest."
About daFlores International Flower Delivery Company
daFlores.com is part of Flores a Colombia, Inc., a United States corporation in Miami, Florida. All daFlores Thanksgiving and holiday flowers are hand-crafted by experts. The company's local florists bring in fresh flowers daily; daFlores guarantees its Thanksgiving and other flower arrangements 100 percent.
###