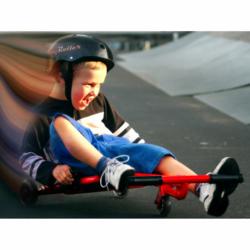 The EzyRoller, an award-winning riding toy, delights preschoolers as well as teens.
Philadelphia, PA (PRWEB) October 31, 2011
To celebrate the start of the holiday shopping season, EzyRoller has launched a Holiday Shopping Sweepstakes. From November 1, 2011 until November 20, 2011, parents in the US can enter to win an EzyRoller, an award-winning ride-on toy.
Riding toys improve coordination and balance and help children feel independent. The best riding toys grow with children to allow for multiple levels of interaction, but few ride-on toys actually span the years from toddler to teen like the EzyRoller.
Children propel the Ezyroller with their feet. Active toys such as the EzyRoller offer valuable exercise to children who enjoy the safe and easy riding experience. The EzyRoller is an excellent development tool for autistic children and children with special needs. Since it is low to the ground, the Ezyroller is both safer and less risky than a typical bicycle and can be more fun than a skateboard or scooter.
The EzyRoller uses the same principle of action-reaction as gondolas in Venice, which make sinus curves in the water. No pedals, no chain, no battery are needed to propel an EzyRoller. Only simple right/left moves on the foot rest are required.
The principle behind the EzyRoller is so powerful that children as young as 3 years old can learn to use this toy within seconds. While the EzyRoller provides a gentle and slow ride for preschoolers, older children, teens and even adults (up to 5' 5") can reach speeds up to 12 mph on this patented and award-winning riding toy.
The EzyRoller is an excellent holiday gift because it can be used indoors during cold, inclement weather and outside when spring arrives. The high resistance polyurethane wheels work on most surfaces and provide a smooth ride.
The EzyRoller is one of the best riding toys on the market. Awards given to EzyRoller include: iParenting Media Award Winner, Toy Innovation Award Winner by ToyDirectory.com, Dr. Toy's 100 Best Products in 2009 &2010, Silver Star and Highly Recommended by Right Start Best Toy Awards, Product of the Year by Creative Child Magazine in 2008 & 2009, Fat Brain Toy Award Winner, ASTRA Best Toys for Kids 2009 Winner, Tillywig Toy Awards Top Fun Award Winner, and National Parenting Magazine's Nappa Gold Award.
About EzyRoller:
EzyRollers are available for $99.00- $109.00 at specialty bicycle and toy retailers nationwide. EzyRollers are available in three styles: EzyRoller Junior in red, EzyRoller Education in red and black, and the classic EzyRoller in white, black, blue, red and hot pink.
###