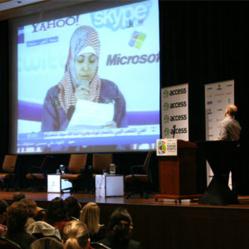 San Francisco, CA (PRWEB) October 31, 2011
On Oct. 26th, participants of the Access Silicon Valley Human Rights Conference were able to watch a live feed from Yemen's Change Square, marking the first time that the Arab Spring had a dialogue with the creators of cutting edge social media technology. Representatives of Google, Intel, YouTube, Twitter, Mozilla, Yahoo, and other technology icons were present for this historic occasion.
"We'd like to thank the participants of this webinar for all the data and communication tools that they have made available to us. They have given us this chance to use them as tools of enlightenment that have contributed to the rise of the Arab Spring," said a young woman wearing a headscarf on the stage of Sana'a 's Change Square. See http://www.youtube.com/watch?v=o5Hd50ChM-8.
Earlier, a video was shown of an ocean of women in veils and headscarves protesting throughout Sanaa, demanding the fall of the Saleh regime. This is the first known time that the Arab Spring and Silicon Valley shared a live dialogue, communicating via live-stream feeds. There are twenty one such protests going on across Yemen today.
This broadcast was introduced on the stage in San Francisco by Maria Al-Masani, founder of the Yemen Rights Monitor, the first organization in Yemen to bridge the gap between mainstream and social media. She explained to the Silicon Valley participants how social media was being used to record human rights violations and to disseminate this information to traditional media outlets such as CNN, BBC and Aljazeera, which would then rebroadcast the news back to Yemen and the world. The 4-mile long crowd of protesters in Change Square saw the Silicon Valley Human Rights Conference via live stream on Oct. 25 and Oct. 26, then at 10:30am on Oct. 26 made comments via a live feed to the audience in San Francisco.
"We are excited that the heart of the Arab Spring today is speaking with the heart of Silicon Valley, whose technologies have shed light on human rights violations in Yemen and circumvented censorship, " said National Council spokesperson Mrs. Hooria Mashoor from Sanaa, Yemen. Meanwhile, in San Francisco, at the Silicon Valley Human Rights Conference, several American women were moved to tears. "It was so moving, I actually cried," said one participant. This is the beginning of a dialogue between revolutions, movements, genders, east and west.
This October, Tawokkol Karman became the first Arab woman to be awarded the Nobel Peace Prize. She is the founder of the revolution and a founding member of the National Transitional Council. The National Transitional Council seeks to meet and work for the aspirations of Yemen's youth revolution.
###