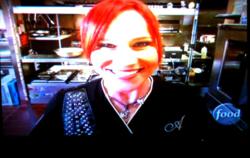 MAKE IT COUNT
Miami, FL (PRWEB) October 31, 2011
Listed as one of the top ten things to do in Miami in October, among Oktoberfest, wearing pink for breast cancer awareness, and Adele (which was cancelled) was cheering for Miami's own, Chef Adrianne Calvo on Food Network's original series, CHOPPED. Calvo's episode aired Tuesday October 25, 2011 at 10pm on Food Network. Calvo said, "It was an amazing experience," as she competed for her foundation, Make it Count, which collaborates with St. Jude Childrens Research Hospital.
Filled with the love for food at a young age, Adrianne focused her efforts on her one true aspiration, gourmet cuisine. At age 27, Adrianne has enjoyed an incredible number of accolades during her remarkable journey in becoming a recognized and decorated chef. Coining the catch phrase, "Maximum Flavor", Adrianne has managed to exceed to the "maximum" degree. From graduating top of her class at Johnson & Wales University, to now owning and operating her own restaurant, Chef Adrianne's Vineyard Restaurant and Wine bar, Adrianne has influenced the culinary community as well as the way people experience fine dining. Most recently, Chef Adrianne Calvo's restaurant and wine bar was featured in the Miami New Times' Best of Miami as having a "cozy, rustic charm."
Incorporating many unique traits to her menu, The Napa Valley inspired restaurant offers a wide selection of her one of a kind "Maximum Flavor" infused dishes. Combined with her menu, she offers "Dark Dining", which gives the diners an opportunity to experience food like no other by stimulating their senses through suppressing one of them. Along with being chef/owner of her restaurant, Adrianne has written two cookbooks, Maximum Flavor and Driven by Flavor Fueled by Fire.
Adrianne keeps herself very busy with different activities besides the daily operation of her restaurant. She is featured every Thursday morning on her very own Maximum Flavor TV segment on NBC6's Live Miami. Through this show, she has been able to share with her viewers the savory and exotic recipes she has rapidly become known for as a culinary artist. Through her many TV appearances she has also been able to explore new recipes and perfect her culinary techniques on live television; a challenge she took on with great enthusiasm resulting in an incredibly positive response from her audience. After signing a multi-year endorsement deal in 2009 with Panda Kitchen and Bath, a Miami, Florida-based leader in the kitchen and bath remodeling market, Adrianne manages to juggle her already busy schedule making herself available for numerous appearances as the company's spokesperson. In addition to her many activities as Panda's spokesperson Adrianne is gearing up to be featured in the company's new 2011 television ad campaign. Adrianne is also on Univision network every Friday for her segment, "Sabor Maximo" (Maximum Flavor) and has recently teamed up with ClearChannel radio for Maximum Flavor Live segments on different Clearchannel radio stations.
Adrianne has also been fortunate enough to be featured and participate at the South Beach Wine and Food Festival for the past 2 years (2010 & 2011).
Earlier in her culinary career, Adrianne worked at the 5-diamond, Mandarin Oriental Hotel in Miami. One of her most memorable experiences was working under Executive Pastry Chef Patrick Lassaque, who had been the executive pastry chef of the Ritz Carlton in Paris, for twenty years. It was there where Adrianne's love for pastry was mastered. After working under exclusive chefs at the Mandarin Oriental, Adrianne took a trip to Napa Valley, California. There, she honed her craft under Chef Thomas Keller and Chef Cindy Pawlcyn; it was an experience that changed her perception of food forever and gave her the inspiration for her restaurant and cookbooks.
Along with her accolades, Adrianne has been able to give back to the community through her foundation "Make It Count," collaborating with St. Jude's Children's Hospital. There she has made it a mission to help children suffering from cancer and their families. In addition, she works together with the Greater Miami YMCA and other local organizations where she shares her inspiring story with children and young adults. Adrianne will also be participating in Chef's Up Front, a culinary extravaganza to benefit Share Our Strength's COOKING MATTERS program in fall of 2011.
Chef Adrianne Calvo has accomplished so much at such a young age and doesn't plan on stopping any time soon. When she is not in the kitchen preparing delightful gourmet dishes she is relaxing at the beach, rollerblading, or keeping in touch with her fans via Facebook and Twitter. She is always looking for new inspiration to influence her unique style and loves hearing from her fans.
###