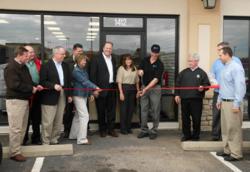 "The development of our Lancaster, Ohio location is another important step in our strategy to grow our presence throughout the state of Ohio", states Greg Danziger, President of Battery Giant
Sterling Heights, Michigan (PRWEB) October 31, 2011
Battery Giant Franchise, LLC is pleased to announce the grand opening of it's second franchise store in Ohio on Saturday, October 21st. Store Owner, Rick Herron, selected 1412 Ety Rd, Lancaster, Ohio as his new store location. Members from the local community, the Chamber of Commerce, and staff from Battery Giant corporate office were in attendance to welcome Mr. Herron to the Battery Giant Family. The official ribbon cutting ceremony was held Friday, October 20th at 4pm with Lancaster Mayor, David Smith present for the event. "I look forward to becoming more involved with the community and being successful in the area," says Mr. Herron.
Mr. Herron brings many years of retail store management experience to his new business venture as a battery industry entrepreneur. "I chose Battery Giant because I wanted to be part of a growing chain that I think will do extremely well and the costs were significantly lower than others I had researched", says Mr. Herron with excitement about his opportunity to partner with Battery Giant. With the support of his community and family behind him, Mr. Herron is confident his business and knowledge about the battery market and wide range of products will grow fast.
"The development of our Lancaster, Ohio location with Rick Herron is another important step in our strategy to grow our presence throughout the state of Ohio. Rick has the retail management experience and community outreach approach to dominate the Southeastern Columbus area", states Battery Giant President, Greg Danziger, who was in attendance for the grand opening celebration. Mr. Heron's store is the second Battery Giant franchise location in Ohio to open in the past two months. The first store opened in the greater Cincinnati area in August.
Headquartered in Sterling Heights, Michigan, Battery Giant currently operates ten franchised retail locations in Michigan, Illinois, Arizona, Ohio, and Florida. Battery Giant carries a wide range of replacement batteries and products for over 100,000 electronic devices, plus offers an electrifying business opportunity for franchise ownership in the ever-expanding battery market. With more than a decade of service in retail battery sales, wholesale distribution, telecom engineering, stand-by power systems, and mobile equipment power, Battery Giant provides the most innovative and cost-effective solutions along with fast, friendly and knowledgeable customer service.
For more information about Battery Giant and our energizing franchise opportunities, visit our website at http://www.batterygiant.com or call Greg Danziger, President, at 586-446-9502, ext. 243.
###