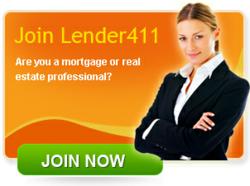 My very first lead from Lender411.com turned into a lead. You gotta try it to believe it.
Robert Z., Las Vegas, NV
(PRWEB) October 31, 2011
Lender411.com (http://www.lender411.com/), a unique online community that connects consumers with qualified mortgage professionals and lets them shop for mortgage rates online, today announced the launch of its new Exclusive Mortgage Leads program for mortgage professionals. This is a powerful marketing tool that leverages the strength and credibility of Lender411.com to generate consumer leads and provide them exclusively to the participating lenders.
Lender411.com has built a world class platform for generation and delivery of internet mortgage leads. Transparency and efficiency have been the central objectives of this endeavor. The quality of Lender411.com mortgage leads have been leading the industry from the very beginning, primarily because they are generated through the site's prominent organic search engine rankings. Until now, Lender411 leads were sold to the participating lenders via a "non-exclusive" arrangement - each lead being sold up to 4 times, never more than 4. Even with the semi-exclusive mortgage leads, Lender411.com lenders experienced great results and rated the quality of the leads at the industry highest. However, with this new program, they can expect less competition and even higher conversions on their leads.
The Exclusive Mortgage Lead program has enhanced experience of both lenders and consumers. Lenders are likely to have higher close ratios because of the branded nature of this type of marketing and of course less competition. Consumers on the other hand, can expect more personalized attention from an individual lender rather than receiving calls from multiple lenders and having to do more work to pick the right lender. All in all, as it pertains to online mortgage shopping, this can be a very effective method for connecting with the right party for mortgage professionals and consumers alike.
"Even though our leads are loved by our clients, we were repeatedly getting requests for exclusive mortgage leads. We always look to our clients to tell us what is needed in the market, so as always, we developed what was requested of us to make properly address our clients' needs," said Rocky Foroutan, CEO and founder of Lender411.com. "We are seeing great demand for this product and foresee it to be a standard offering for a long time to come."
Lender411.com is a market leader in the mortgage leads in all 50 states and offers a reliable platform for lenders to promote their services and connect with prospective clients on a local and national level. Lender411.com has already established a significant nationwide presence and continues to grow rapidly.
About Lender411.com
Founded in 2006, Lender411.com is an online community connecting consumers shopping for home financing options with qualified mortgage and real estate professionals. The site provides an open and transparent platform where consumers can tap into a trusted network of mortgage professionals and seek expert advice and assistance in choosing the right loan. Lender411.com's innovative technology has defined new best practices standards for the online lead generation industry. For more information and an exploration of all services and resources offered, visit http://www.lender411.com.
###