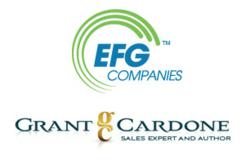 Dallas, TX & Los Angeles, CA (PRWEB) October 31, 2011
EFG Companies, the innovators behind the award-winning Hyundai Assurance program, is partnering with international sales expert, trainer and New York Times best selling author, Grant Cardone, to facilitate increased auto dealership profit and higher customer satisfaction.
Under this partnership, Cardone will also create online training material for EFG's programs, beginning with EFG's Drive Forever powertrain program, and EFG will market Cardone's complete suite of training capabilities to its dealer clients.
Beginning in late October, when dealers sign up for Drive Forever, they will receive an initial install training course from Cardone and EFG will conduct ongoing, individualized programs to enhance the ongoing impact of top sales performance in dealership.
"With the start of the year-end share war upon us and a tough 2012 ahead, dealerships are looking to supplement their teams with the best training and tools available. We are privileged to have Grant's endorsement of the Drive Forever program," stated John Pappanastos, CEO, EFG Companies. "This long-term relationship combines his unrivaled training and our ongoing engagement to exponentially drive higher profitability for both of our client bases."
"I've consulted for players in the automotive industry and provided practical tools to maximize opportunities, achieve goals and develop the skills necessary for phenomenal success," said Grant Cardone. "EFG has an incredible reputation and track record of dealer success, built upon 34 years of insight into consumer purchasing behavior of auto protection products. I look forward to working with them to take their results to a whole new level."
Cardone and EFG initiated discussions in early October to define a model which would enhance the success of both his training curriculum and EFG's product and service offerings. By partnering and co-marketing their products and training services, their goal is to enable dealers to improve sales and leadership skills, drive sustainable performance improvement and increase in-dealership engagement.
About EFG Companies
EFG Companies was founded in 1977 from a need to plan, design and develop adequately reserved, financially sound consumer protection products. As the marketplace place has evolved, so has EFG through forward thinking individuals who see economic drivers, such as the digital age and a more informed and demanding consumer, as opportunities. Today, EFG is a world-class financial service products administrator committed to continuous development of innovative products, services and go-to-market strategies across a multitude of channels. The comprehensive services that surround and propel these efforts include training, recruiting, workforce productivity engineering and marketing services.
Website: http://www.efgcompanies.com
About Grant Cardone
Grant Cardone is seen regularly on Fox TV, CNBC, Fox Business and NBC. He also had a television show developed around him and has been featured on HGTV's new show, "Selling LA" and Joan Rivers' "How'd You Get So Rich." Cardone has written four books since the 2008 financial crisis on what individuals and businesses must do to survive and prosper in the new economy.
Websites: http://www.GrantCardone.com and http://www.CardoneOnDemand.com
###