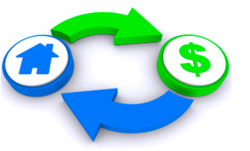 Only 115 Reverse Mortgages were originated in 1991, compared to 114,692 in 2009.
Boston, Mass (PRWEB) October 31, 2011
The industry defining domain name, ReverseMortgages.com, is now available exclusively for sale with DomainAdvisors. While average home values decline, statistics show that over 21% of homeowners have little or no equity in their homes. However, based on a report issued from Zillow.com, there are millions of Americans who do have plenty of equity, seniors.
The idea of a reverse mortgage is not a new concept, it has been offered in the United States since the 1960's, but has not caught on until recently. According to the Federal Housing Administration (FHA), who backs the majority of Reverse Mortgage loans through its Home Equity Conversion Mortgage (HECM) division, only 115 Reverse Mortgages were originated in 1991, compared 114,692 in 2009. As the demand for Reverse Mortgages continues to increase along with the number of tech savvy seniors, ReverseMortgages.com could one of the most prime internet real estate domains available.
"On the verge of retirement, Baby Boomers face a down economy, failed pensions, unemployment, and major losses in retirement savings. In order to sustain the same and well-earned standard of living they are used to millions of Seniors will be turning to a Reverse Mortgage solution in the near future," said Tessa Holcomb, CEO of DomainAdvisors. "A category defining domain name like ReverseMortgages.com will continue to grow in popularity and demand as more and more Baby Boomers Retire. "
For additional information or offer guidelines, contact Senior Advisor, Brooke Hernandez, at (508) 689-9569, ext. 401 or brooke(at)domainadvisors(dot)com
About DomainAdvisors
DomainAdvisors assists domain owners and online businesses in the overall planning and execution of their domain strategy. DomainAdvisors offers resources with the knowledge and understanding necessary to provide invaluable guidance during the entire lifecycle of a domain. Services range from consultancy to acquisitions, to all elements of monetization, development, branding and sales. Domains can be complicated and DomainAdvisors provides the opportunity to leverage years of industry experience to help maximize success.
###