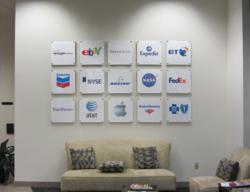 San Jose, California (PRWEB) October 31, 2011
Blank lobby walls are usually boring, but here is an example of how one sign company used a new approach to turn a blank white space into a strong message. BLR Sign Systems, a premiere visual communications provider in Silicon Valley, recently created this signage for a waiting room area for their customer, Gigamon, totally transforming a blank wall into a business communication.
15 corporate logos were displayed, each in their own three-dimensional plexiglass frame. Each stands out an inch from the white wall background. The arrangement is more than just signage: it creates a bold statement about who the company works with and represents their credibility.
Interior signage and lobby displays are a specialty for BLR Sign Systems, and more examples can be seen by viewing their signage portfolio. This is also an example of what one can do without words or text, but by simply presenting images (or logos) by themselves, which are capable of getting a concept across in a nonverbal way.
###