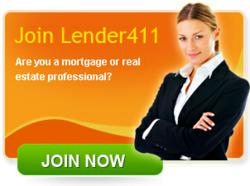 The Lender411.com mortgage calculator is truly the best out there.- Ryan B., Irvine, CA
(PRWEB) October 31, 2011
Lender411.com (http://www.lender411.com), a unique online community that connects consumers with qualified mortgage professionals and lets them shop for mortgage rates online, today announced the launch of its interactive Mortgage Calculator. This is a powerful interactive tool that helps potential borrowers calculate all components of their home mortgage loan such as: monthly interest & principal payment, total payment, PMI, property insurance and amortization schedule.
Lender411.com has built a vibrant online community for consumers to gain knowledge on how to obtain a mortgage loan and do research on different loan programs as well as the various mortgage companies. The first step in acquiring any mortgage is to run a personalized loan scenario and find out how much the monthly payment for the particular loan would be in order to assess whether or not the loan would be affordable. There are many online mortgage calculators, but Lender411.com has made its mission to develop the best-in-class mortgage calculator which is accurate and comprehensive yet easy to use and understand.
In addition to the mortgage calculator which is available on the Lender411.com site, Lender411 has also developed a mortgage calculator widget which can be deployed on any third party website by merely dropping a few lines of code on the website. There has been such great feedback on the Lender411.com mortgage calculator that many of our members have replaced the mortgage calculator on their website with the Lender411.com mortgage calculator widget. The calculator makes effective use of bar charts and color coded designs to make understanding all the components of a mortgage loan a breeze.
"Using the right mortgage calculator when you are comparing different loan programs is the key in selecting the right program," said Rocky Foroutan, CEO and founder of Lender411.com. "We understand that and hence developed a mortgage calculator which is easy to use and re-use for running many different loan scenarios."
Lender411.com is a market leader in the mortgage widgets and offers a reliable platform for lenders to promote their services and connect with prospective clients on a local and national level. Lender411.com has already established a significant nationwide presence and continues to grow rapidly.
About Lender411.com
Founded in 2006, Lender411.com is an online community connecting consumers shopping for home financing options with qualified mortgage and real estate professionals. The site provides an open and transparent platform where consumers can tap into a trusted network of mortgage professionals and seek expert advice and assistance in choosing the right loan. Lender411.com's innovative technology has defined new best practices standards for the online lead generation industry. For more information and an exploration of all services and resources offered, visit http://www.lender411.com.
# # #