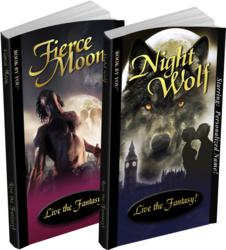 The world's first personalized books for werewolf and vampire fans!
London, Ontario (PRWEB) October 31, 2011
For Halloween Book By You celebrated the release of its personalized werewolf romance novel Fierce Moon and Night Wolf. With the upcoming films Breaking Dawn Part I and Sherlock Holmes 2, as well as the popular BBC series Sherlock and the ever-increasing popularity of paranormal / Urban Fantasy romances, these full-length personalized books, are designed to satisfy the audience's hunger for suspenseful, supernatural romance and adventure—and, for the first time, allow readers themselves to play the roles of the smart, brave heroine and wild, tortured hero.
Customers co-author Fierce Moon or Night Wolf by visiting the Book By You® website and completing an easy questionnaire with 26 features to personalize, including the heroine, hero, and the heroine's best friend, as well as features such as hair color, eye color, and body type; customers can even include a dog or cat. These beautifully bound, 200-page novels are available in paperback and hardcover, and can be further personalized with a photo on the back cover.
The plot begins when our mystery-loving personalized heroine is swept back in time to Victorian England, where she's captivated by a brilliant, dashing detective and joins the hunt for a terrifying serial killer called The Beast. But this secretive hero hides a deadly side: each full moon, he turns from man to vicious werewolf! Is this renowned detective guilty of the horrific crimes he's vowed to solve...and a danger to the woman he loves? Fierce Moon and Night Wolf 's shocking twists leave readers gasping as they visit a past filled with intrigue and passion.
Book By You founder Mike Pocock commented, "Night Wolf has been wildly popular with teens, and though it's slightly less steamy than our adult Fierce Moon version, YA readers won't miss out. Both books contain taut suspense and one of our most heated, emotion-filled romances ever. Filled with mystery and drama, these are perfect books for everyone from fans of Teen Wolf, Twilight, Vampire Diaries and True Blood to Sherlock Holmes and mystery devotees."
To purchase either of these personalized novels, readers go to the company's website, BookByYou.com, and complete a character questionnaire specifying the information to be included in their book. The company offers a free demonstration area where readers can preview personalized excerpts from each of the company's 15 romance novels and three teen novels.
###