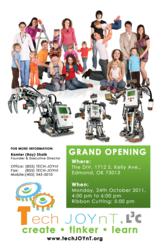 Community Technologists at techJOYnT reinforce the Math & Science learned from school and engage kids in fun Engineering activities to foster Innovation at an early age with household gadgets.

Ramier Shaik, Founder/CEO
Edmond, OK (PRWEB) October 16, 2011
TechJOYnT L3C, the first L3C company operating in the State of Oklahoma, is seeking strategic alliances to promote science and technology (STEM initiatives) in Oklahoma for ages 6-14.
TechJOYnT delivers curriculum to reinforce traditional science, technology, engineering and mathematics education. The organization offers families, students, and mentors the opportunity to learn engineering and entrepreneurship concepts through hands-on robotics projects. Programs are offered at local libraries and community centers.
TechJOYnT periodically holds free community events called iKIDS iNNOVATE FORWARD at local libraries to introduce STEM concepts through robotics. These events provide an opportunity to preview program offerings before they are released. Joining the program will cost about as much as being part of an athletics camp and will allow families enjoy the hi-tech skills of the future. This has been made possible by local support from organizations such as The Div and Nowsoft, which have made STEM education a priority during early learning years.
TechJOYnT is partnering with The Div, in Edmond, to engage children ages 9-14 with a real-world robotics curriculum. The sessions will begin Nov 7, 2011 and will be held at The Div on Mondays and Wednesdays from 4-6 pm. Children ages 5-8 will participate a motorized mechanisms camp from 4-6 pm on Sundays.
"I am so excited that techJOYnT approached The Div about this partnership," says Lindsey Miller, Executive Director of The Div. "It is perfect for our mission of developing and training a strong, skilled and dynamic workforce for the tech industry in Oklahoma. We are just helping to promote a sense of creativity and innovation in a younger generation."
A community's children are its greatest asset, and techJOYnt and The Div are partnering together to bring technology education to the children who will be leading Oklahoma into the future. They will be the workforce, the innovators, and the employers that will lead Oklahoma into becoming even greater.
The Div and techJOYnT is inviting you to come and enjoy the festivities at the grand opening of techJOYnT in Edmond, OK. The Div is located at 1712 S Kelley Ave., Edmond, OK, 73013 and the grand opening will open at 4:00pm on October 24. It will be a family fun event to encourage innovation at an early age. Families attending the grand opening will take part in robot building and programming activities. There will be inflatables, face-painting, and family friendly maker space projects on display.
Families interested in attending are encouraged to RSVP on the Facebook event (Grand Opening of techJOYnT in Edmond, OK).
We encourage the community to take part in hands-on Science, Technology, Engineering, and Math (STEM) learning activities to prepare for the global competitiveness while having loads of fun.
Visit http://www.techjoynt.org for more information.
Contact:
Ramier (Ray) Shaik
Founder & CEO
(405) 345-5010
ray(at)techJOYnT(dot)org
###