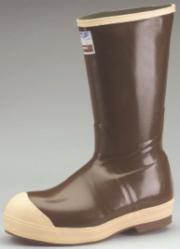 Originally developed for the West Coast's fishermen, XtraTuf Neoprene Boots are now available to everyone.
(PRWEB) November 15, 2011
Watertight protection meets comfort in XtraTuf Neoprene Boots. Neoprene rubber is ozone resistant, softer and lighter than ordinary rubber, and extremely pliable. It is also oil resistant and impervious to many organic and inorganic acids, chemicals and contaminants. This means that every pair of XtraTuf Neoprene Boots, which are triple dipped in Neoprene for an outer coating, are waterproof and will protect the wearers feet from many harmful contaminants. And the Chevron outsole and heel gives the wearer traction on even slick surfaces. These fine boots are now available at the newly redesigned website http://www.x-tough.com
XtraTuf has been producing boots since the 1960s. Originally developed for the West Coast's fishermen, XtraTuf Neoprene Boots are now available to everyone. Designed to withstand even Alaska's harsh weather and the Arctic Sea's frigid temperatures, XtraTufs are the best choice for the worst conditions. Fishermen, farmers, construction workers and anyone else working in tough conditions, this is the boot to meet our needs.
Comfort matches quality in XtraTuf Neoprene Boots. Built-in cushion insoles with arch supports help the wearer fight fatigue and stress in their legs and back. Wear these boots to have all day comfort for feet, not to mention all day protection from the elements. The soft and durable fabric lining of the boot helps to control moisture build-up and also offers ease in taking off and putting on the boots. Wearing XtraTuf boots is wearing the most comfortable pair of boots.
XtraTuf Neoprene Boots are offered in a variety of styles, the first of which is a 6 inch sneaker type boot. This is the protection of a boot in tennis shoe form. All of the protection of XtraTuf is packed into a boot for the best mobility. These are great for just slipping on to go outside quick when there is not going to be any wading through water and muck. Still waterproof and comfortable, these boots are great for getting around fast.
Offered next is a 12 inch boot. Taller than the first, this boot will protect both feet and ankles. These are great for farm work and general outdoor work. Hiking or walking over rough terrain will be simple in these waterproof boots. Wear them all day in the best comfort and, when done for the day, hose them off or wipe them down with a little detergent and warm water; easy care for a tough pair of boots.
The best selling XtraTuf Neoprene Boot is the 16 inch. This boot is offered in both insulated and non-insulated so there is extra protection in the worst temperatures. These boots protect feet, ankles and calves allowing the best all around coverage for the human body. 100% waterproof from the Neoprene dip, these boots are great for fisherman and trudging through snow.
Want the best protection from a pair of XtraTuf Neoprene Boots? XtraTuf's Neoprene Safety Boot is the way to go. The 16 inch boot has an added feature, a steel toe. Construction workers work no matter what the weather all day long; the comfort of XtraTuf plus a steel toe for added protection is the boot they need. Order an insulated pair and even temperature won't affect the comfort of feet, ankles and calves. These boots are also great for fisherman on board ship for the many mishaps and hazards that are sure to happen.
Men want XtraTuf Neoprene Boots, but women need them too for all the same hazards. XtraTuf for women are close fitting boots for the best protection. A conversion chart located on the XtraTuf website allows women to determine their size for a pair of XtraTufs. Get the best protection and comfort a hardworking woman deserves with XtraTuf.
Since XtraTuf is primarily distributed on the West Coast, how can anyone get a pair? It is easy. Look to the best online retailer for Xtratuf boots at x-tough.com. Now no matter where the need arises, everyone can get a pair of XtraTuf Boots.
###