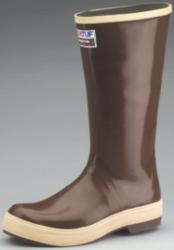 Local retailers are often tough to find these days, but http://www.x-tough.com/ is the one stop shop for Xtratuf boots!
(PRWEB) November 11, 2011
Great boots are just getting better with the addition of a Servus Xtratuf Boots. XtraTuf boots are known for their all day comfort and protection. 100% waterproof, these boots are the best choice for harsh conditions weather conditions. Making them Servus XtraTuf Boots is making them the best ever. Check out the details of these fine boots on the new X-Tough website http://www.x-tough.com
What are XtraTuf Boots?
XtraTuf Boots have been around since the 1960s. These boots were originally designed for Alaskan fishermen just like on the famous TV show Deadliest Catch. Their sturdy design and all day comfort have made them the best boots for even Alaska's frigid temperatures and harsh terrain.
Triple dipped in Neoprene, XtraTuf Boots are waterproof and resistant to oil, many organic and inorganic acids, chemicals, and contaminants. Neoprene is softer, lighter and far more pliable than ordinary rubbers making them a light yet hardy boot. A soft and durable fabric lining helps to control moisture build-up inside the boot; this also makes the boots easy to put on and take off. The outsole and heel of the boot are made of Chevron, a slip resistant material. These boots will have traction on even slick surfaces.
What kinds of XtraTuf Boots are there?
XtraTuf offers a variety of different boots. The first is a 6 inch Servus Xtratuf boot which looks more like a sneaker. This is a mobile boot; easy on, easy off for quick trips out the door. Xtratuf boots help provide calf and ankle protection, especially for those on their feet for long periods of time.
The next boot in their line-up is a 12 inch Servus Xtratuf boot. This taller boot offers ankle protection. Completely waterproof, this is a great boot for farm work. Helping walk through anything all day long and just hose them off at the end of the day.
Even better protection comes from the 16 inch Servus Xtratuf boot. This boot protects feet, ankles and calves from harsh weather and water. Also available as an insulated boot, the wearer will be protected from extreme temperatures as well. This is the boot for those in the harshest weather conditions; they will have all day comfort and all day protection.
Steel toed boots are necessary for the roughest jobs and Servus can supply these too. The 16 inch Servus Xtratuf Insulated Safety Boot is the hardiest boot in this line-up. All of the comfort and water protection are rolled into a boot with the utmost protection. Construction workers, ship workers, and all others who are around dangerous hazards, this is the right boot for the job. There is also an option to make them insulated providing even more protection in the worst temperatures.
Tough jobs are not just for men, and XtraTuf Boots are not just for men. XtraTuf Boots are great for women who are working in rough conditions as well. Any XtraTuf Boot style is for both men and women and they carry kid's boots too. Youth and children sized ensure that kids will have a 100% waterproof rubber boot.
XtraTuf Boots Insoles
Felt insoles are air-channel insoles that let air circulate around the foot. The sock lining of the insole is moisture absorbing and will help keep feet dry and comfortable. The foam of the insole is contour molded to fit each foot specifically and provide gentle support. This is added comfort to make sure nothing comes between the boot and foot.
These insoles are removable and replaceable so that they can be switched out and to be washed at night and still have a pair for the next day. They are also a great choice if a pair of boots are a little bit big. Since XtraTuf Boots can only be ordered in whole sizes, Bates insoles for Xtratufs make up the half sizes. If boots are half a size too big, a Servus insole will help ensure feet don't slip around inside the boots.
Where can I get Servus XtraTuf Boots?
Local retailers are often tough to find these days, but x-tough.com is the new one stop shop for all Xtratuf boot needs. With an amazing selection that will surprise, it's the one site to turn to when in need of tough boots.
Need boots? Get the best, Servus XtraTuf Boots.
###