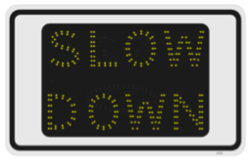 Post Falls, Idaho (PRWEB) November 29, 2011
Located at http://www.TraffiCalmSystems.com on the web. TraffiCalm Systems, a leader in the manufacture, sale, and world-wide distribution of radar-based electronic driver feedback signs, announced the upcoming launch of their new Slow Down Display Option for the DriveBrite™ line of electronic driver feedback systems.
Scheduled for release in mid December 2011, TraffiCalm Systems' Slow Down sign option will give TraffiCalm Distribution Partners the ability to offer important add-on functionality to previous end user sign sales and offer a complete traffic calming solution for new driver feedback sign opportunities.
"It's a great add-on feature for customers who need to reduce traffic speeds in their area without a significant outlay of funds." said Jan DeSantis, Business Development Manager. "In addition, they enhance the strong reputation our DriveBrite™ driver feedback signs have for being one of the most effective, feature-rich, and affordable traffic calming solutions on the market!"
TraffiCalm Systems' new SLOW DOWN Display Option operates synchronously with their full line of DriveBrite™ Driver Feedback Display Signs. The signs offer flexibility with the "SLOW DOWN" message programmed to either flash or alternate with the emoticon "sad" face. There is also a non-flashing "sad or "smile" standalone emoticon option.
The units measure 30 inches by 20 inches with 5" amber Highway 5E LED characters, and feature high-visibility prismatic long life reflective sheeting on a static faceplate with flat black borders. Clients can choose white, fluorescent yellow green, fluorescent orange, or yellow faceplate colors depending on their specific application.
"We understand the challenges and needs of those seeking effective traffic calming solutions and feel that our comprehensive feature set and modular design make our DriveBrite™ signs a smart choice," added DeSantis. "Our goal is to offer Government & Law Enforcement, and those responsible for School Zone, Neighborhood & Pedestrian, or Work Zone safety an effective, proven, and affordable solution."
Slow Down Display Option Details:

Size: 30" x 20" - High visibility prismatic long life reflective sheeting on static face with flat black border, available in white, fluorescent yellow green, fluorescent orange, and yellow.
Power Requirements: 10 -16.5 VDC , 20W Maximum (Ave. 4W)
Character size: 5" (MUTCD Highway 5E)
LED Color: Amber (590nM)
Angularity: +/- 30-degrees
Brightness: Controlled by Radar Display through signal lines or by backup photocell that is on-board. Maximum brightness: 10,000 cd/m2
Operates synchronously with Radar Display using signal lines from Radar Display.
"SLOW DOWN" flashes 2Hz, or alternates with "sad" face. "Sad" can appear steady by itself. "Smile" is on steady by itself when it appears.
Attachment to pole is by banding or bolts through provided pad lockable bracket. Display can be removed from the pole without disturbing the bracket
TraffiCalm Systems' DriveBrite™ radar driver feedback signs are currently available in two sizes targeted for urban, and highway use, along with a remarkably affordable residential size sign due in the second quarter of 2012. All signs feature a selection of available intelligent power management options that make the signs ideal for use in a wide variety of settings along with solar options for areas of installation where direct power is not available or is cost prohibitive.
With DriveBrite™ signs information such as traffic volume, peak traffic hours, vehicle speeds, and more can be quickly downloaded directly via a wireless Bluetooth™ link that allows local law enforcement, public transit authorities, and local Department of Transportation (DOT) offices to make planning and enforcement decisions based on timely access to valuable traffic data.
DriveBrite™ Driver Feedback and Variable Speed Limit HIGHWAY Signs: Accurate and readable at high speeds for better highway safety; Real time speed feedback; Programmable speed thresholds; High-impact polycarbonate electronics unit. Offered in a 48" x 60" size with 22" LED speed display in white, yellow, fluorescent yellow-green, or fluorescent orange faceplate.
DriveBrite™ Driver Feedback and Variable Speed Limit URBAN Signs: Ensure urban roadway safety with precision, durability, and reliability; Bright, visible LED readout; Fully programmable sign sensitivity and alerts; Bluetooth connectivity for easy programming. Offered in 30" x 41" size with 15" LED speed display in white, yellow, fluorescent yellow-green, or fluorescent orange faceplate.
TraffiCalm Systems is providing quotes and taking advance orders through their Distribution Partners for their new "Slow Down" Display Option now!
For additional information on TraffiCalm Systems' new Slow Down Display Option or their DriveBrite™ driver feedback signs and traffic calming solutions, visit the website at; http://www.TraffiCalmSystems.com/products/ to contact a regional TraffiCalm Systems Distribution Partner, download current product specifications and brochures, research possible funding sources, and access traffic calming solutions and studies.
About TraffiCalm Systems:
As a pioneer in the radar speed sign industry, TraffiCalm Systems leverages decades of manufacturing experience and engineering expertise through its parent company MOR Manufacturing to deliver its DriveBrite™ series of driver feedback signs. Deployed by government agencies, municipalities, neighborhoods, schools, and businesses in almost all 50 states and many other countries globally, TraffiCalm's proven technology is a highly effective and affordable urban and highway traffic calming solution. TraffiCalm signs are made in the USA.
Contact Information:
John Ragan
President
jragan(at)trafficalm(dot)com
Jan DeSantis
Business Development Manager
jdesantis(at)trafficalm(dot)com
1.208.292.1039
Sarah Holden
Customer Service Manager
sholden(at)trafficalm(dot)com
1.208.292.1035
Toll-Free: 1.855.738.2722
http://www.TraffiCalmSystems.com
http://www.MORMfg.com
###