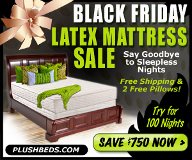 The elasticity in a latex mattress cover is crucial... it allows the layers of latex underneath to give optimal pressure relief..."
Lewes, DE (PRWEB) November 24, 2011
Savvy shoppers are looking for more than just deep-discounted prices, they're shopping for value. Statistics show consumers are still willing to spend more for products that offer value long term over their cheaper counterparts. Black Friday offers a unique opportunity for shoppers to invest in larger-ticket items that would otherwise be out of their price range.
For Black Friday 2011, Plushbeds.com is appealing to this demographic with its green lineup of 100% natural latex mattresses, featuring its exclusive, non-woven, organic mattress cover.
Beginning on Black Friday, Plushbeds.com is offering a full $750 off all Botanical Bliss™ 100% natural latex mattresses with 2 free latex pillows and free shipping while supplies last. PlushBeds is also offering $1,000 off when an adjustable bed frame is added to the order. Says Michael Gordon, VP of PlushBeds, "Going green is in. Individuals known for their conservationist mindset are no longer viewed in the same light. Today, you don't have to be an environmentalist to appreciate the value in things such as recycling or buying natural products that help to reduce your carbon footprint. Often these products offer you a better experience, are healthier for you, and can be less expensive in the long run."
One of the features that separates Plushbeds' Botanical Bliss™ natural latex mattress collection from many others in the mattress industry is their newly-introduced, knitted organic mattress cover. Gordon claims that it is the softest, finest quality organic cotton to be found online.
"Knitted fabrics are different from woven fabrics in that the strands of yarn are looped together as opposed to being straight," Gordon explains. "Knitted fabrics can stretch in any direction because the stitches are in loops and can bend in any direction without stressing the fabric, offering much more 'give' and elasticity over woven fabrics. The elasticity in a latex mattress cover is crucial because it allows the fabric a natural way to be wrinkle-resistant and stretchable without becoming permanently distorted, which in turn allows the layers of latex underneath to give optimal pressure relief and a much better sleep experience."
Latex mattresses constructed with natural latex have been known to last beyond 30 years. Interestingly, 100% natural latex mattresses, such as those offered by Plushbeds (without fillers and glues), are even biodegradable. When the useful life of an all natural latex mattress is spent, its lack of petrochemicals and other man-made products allow it to break down naturally, without spending hundreds or thousands of years taking up space in a landfill.
About Plushbeds:
Headquartered in Lewes, DE, Plushbeds is a leading online retailer of natural latex mattresses and other specialty sleep products. Backed by over 39 years of manufacturing experience, Plushbeds is unique in the latex mattress industry in that their mattresses are made-to-order, allowing customers to specify the firmness of a particular mattress. To learn more, call toll free 1-888-449-5738, or visit Plushbeds at http://www.Plushbeds.com.
###