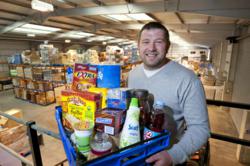 We have thousand discounted products that we aim to have on display at all times, but many of our offers change daily. And all at inflation beating prices - that's what makes us so special
Sheffield, UK (PRWEB UK) 1 November 2011
Whilst British households have been hit hard by the latest inflation rise, and unemployment is increasing, online value grocery retailers are experiencing a massive boom in sales.
And sales are expected to increase to £11.2 billion by 2016, according to the food and grocery analyst IGD.
And emerging from these statistics is Approved Food, the market leader in online short-dated and residual products: a pre-Christmas gift for households everywhere. At http://www.approvedfood.co.uk you can SAVE up to 90% on everyday branded cupboard fillers and make the festive season more affordable! Even better, this is not just for Christmas but all year round, 24 hours a day, 7 days a week'
"We have over a thousand discounted products that we aim to have on display at all times, but many of our offers change daily. And all at inflation beating prices - that's what makes us so special." says Dan Cluderay, founder of Approved Food.
At http://www.approvedfood.co.uk you can find anything from gourmet coffee to good old fashioned baked beans at basement prices. You will also find a fantastic range of soft drinks, pet food, sweets, cakes and dry groceries.
Bearing in mind the recent discussions regarding a move away from waste-inducing 'sell by', 'display until' and 'best before' dates used by supermarkets, shopping at approvedfood.co.uk makes even more sense. Overall in the UK, food waste costs £23 billion a year, a figure that is rising fast, as the cost of food rapidly increases. Eight million tonnes of prematurely thrown away food ends up in landfill each year and waste creates around 18 million tonnes of CO2, equivalent to the emissions of four million family cars.
According to Dan Cluderay, "More and more consumers are finally realising that 'sell by' and 'display until' dates are meaningless and cause a vast amount of waste in the UK, both in terms of household budgets, as well as perfectly good food that ends up in environmentally damaging and costly landfill."
"I've just eaten a bag of Sensations and a few Peperami sticks for lunch. Both had passed their best-before date, and they were absolutely fine. I would challenge anyone to taste the difference" he added.
Approved Food has had products tested at Leeds Metropolitan University, Bio Medical Science Lab, see link here [http://www.youtube.com/embed/bYUMFnxo-wY and they passed with flying colours.
"'Use by' dates are important and provide the timescale after which certain fresh foods can be damaging to health if consumed. However, 'best before' is a subjective and often arbitrary label that guides consumers as to the estimated best time to use a product. Worst of all, 'sell by' dates simply create waste and feed the perennial demands of the ever-greedier supermarket giants".
In order to clarify the confusion that some people have regarding the variety of dates attached to food, Dan gave this summary:
'Use by' – observe strictly
'Best before' – use your common sense
So why not use your common sense?
Treat yourself to some luxuries and save money at http://www.approvedfood.co.uk
###