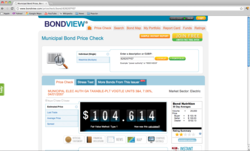 "In the municipal bond market, we often see investors accepting the wrong price for a bond. This problem results in unsuspecting investors leaving money on the table, " Robert Kane, CEO of BondView.com"
New York, NY (PRWEB) November 29, 2011
"Price check on aisle 10." If Walmart carried municipal bonds, their market value would be clearly labeled on a price tag. But in the murky world of municipal bond trading, there is no centralized exchange, as there is for the stock market. As a result, accurate and timely pricing is largely unavailable for most investors. BondView fills the void of timely municipal bond pricing with its new Price Check tool, available for free at http://www.bondview.com/pricecheck.
Figuring out the right price at which to buy or sell a bond can be complicated. "In the municipal bond market, we often encounter investors accepting the wrong price for a bond. This is a real problem that has unsuspecting investors leaving money on the table, " said Robert Kane, BondView's founder and CEO. Since only 1% of all muni bonds trade on any given day, it is unlikely that the bond to be priced has recently traded. For the 99% of bonds that don't trade, BondView's technology evaluates the fair market value using industry standard accounting methods.
In contrast to the common industry practice of pricing multiple bonds based on similar credit ratings, BondView produces independent muni bond prices using its proprietary algorithm and real time market data. Legacy pricing practices often result in inaccuracies because they do not consider the unique features of a bond or its issuer-- for example, the state in which the bond was issued. In reality, issuers come with their own credit risks and financial concerns, which translate to pricing differences in the marketplace.
BondView's approach mitigates such inaccuracy by instead focusing on a bond's market rating. Bonds are grouped according to certain factors, including state, sector, maturity, coupon and tax treatment. "The group's trading and yield range serve as a proxy for the bond you want to price," explained Kane. As a result, BondView updates prices for individual bonds in "real time and for real reasons."
"BondView's Price Check levels the playing field by offering free, independent, professional-quality pricing information and improving transparency for all investors," said Kane. "Our special sauce is the reliability of our pricing." BondView's algorithms are calculated based on Financial Accounting Standards Board guidelines (Topic 820 formerly known as FAS 157) and have been back tested across its extensive repository of municipal bond data. "The result is dependable pricing for the entire municipal bond universe," he said.
The Price Check dashboard is both user-friendly and transparent. Investors can log on to check as many bond prices as they wish, or easily save a multi-bond Watchlist for ongoing use. Soon, BondView will also be available from within Microsoft Excel on a user's own desktop. BondView's Price check provides many unique indicators for a bond of interest, such as market sector, yield, liquidity and volatility ratings, stress testing, dealer spread, and a complete trading history; it also explains how these values are calculated. The dashboard presents this information in handy charts, including a "Rich or Cheap" gauge that compares your bond's price to the trading range of thousands of similar bonds.
Like its muni bond and bond fund ratings, BondView's Estimated Prices are powered by the company's unique repository of 50,000 active state and local bond issuers across millions of municipal bonds. The BondView repository provides information on all individual municipal bonds, including a complete trading history, estimated current prices, yield curves, dealer trading ranges, and the company's proprietary market ratings for each bond.
BondView is the leading investor advocate for municipal bonds. BondView, LLC provides municipal bond portfolio analysis and market data for investors and professionals. Our mission is to promote smart, informed decision making by municipal bond investors and their advisors. BondView is dedicated to providing timely and accurate real-world market data specific to municipal bonds and municipal bond funds. Its suite of tools and services continues to evolve. Interested investors can use the BondView Municipal Bond Price Check service at Bondview.
For more information contact: Robert Kane at BondView, LLC.
Telephone: 866-261-9533. news(at)bondview(dot)com , http://www.bondview.com.
207 Mineola Ave., Suite 217, Rosyln Heights, NY 11577.
###