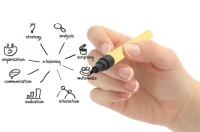 E-Learning 24/7 provides global consulting services to buyers and suppliers in the e-learning industry. The pod-cast series starts November 7th of 2011.
(PRWEB) November 03, 2011
Craig Weiss has become the "go-to" expert on the topic of e-learning. Weiss, who gives presentation talks world-wide on the subject, is launching an informative pod-cast series dedicated to online learning. E-Learning 24/7 is headed up by Weiss and offers a variety of e-learning product reviews, directories, insight and trends. Starting on November 7th E-Learning 24/7 will feature pod-casts with all the information needed to make an informed decision regarding e-learning including mobile and social.
Within the last year a noticeable surge in interest has taken place when it comes to mobile learning. However, there are various types of mobile learning products - which is why Weiss decided to dedicate a series of pod-casts on the subject. Both consumers and the media will be able to gain an in-depth understanding of e-learning and mobile learning through the tools and information provided in the very first pod-cast.
"There are many options out there when it comes to mobile learning." states Craig Weiss. "Companies need to know what they should be asking potential vendors and be completely informed about all options before implementing a learning strategy."
As the web 2.0 culture advances, mobile learning is quickly becoming the best platform for learners to access both courses and content through a variety of smart devices. Uploading media, exchanging and creating content, or hosting an interactive conversation directly from a mobile device provides individuals with the freedom needed to be successful within any educational campaign. Like any other product or service there are good providers for mobile learning and some providers that still have challenges to overcome. Weiss' pod-casts promise to decipher current misconceptions while promoting the many benefits of mobile learning.
Both the media and public are encouraged to contact Craig Weiss directly for this thoughts on this upcoming pod-cast series, e-learning, and the direction of mobile learning in general. Qualified media outlets will be granted an interview and an exclusive preview of the entire pod-cast series.
Craig Weiss has been a leader within the e-learning field for over thirteen years. He currently makes a living discussing topical issues related to his industry and maintains one of the highest-traffic blogs dedicated to the subject. His company, E-Learning 24/7, provides global consulting services to buyers and suppliers in the e-learning industry. In addition, Weiss has composed numerous articles for a variety of respected publications.
MEDIA & PUBLIC CONTACT INFO:
Craig Weiss
http://elearninfo.com/
or
http://elearninfo247.com/
Helene Vece, JumpStart Ink & PRSA Member
(702) 409-1282
Helene(at)JumpStartInk(dot)com
###