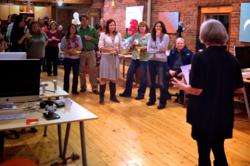 In every moment we are either enhancing or interfering in a healthy relationship with our child.
Middlebury, VT (PRWEB) November 29, 2011
After more than 20 years of live classes and workshops, national speaking tours, and distribution of a popular multi-media "parenting program in box," Parent educator Vicki Hoefle brings the insight, advice and humor of her Parenting On Track™ program exclusively to the booming ebook format.
"Real Parents, Real Progress, Inside the lives of Parenting on Track™ Families" is a compilation of true stories from real Parenting On Track™ families, filled with trials, triumphs, humor, frustration and insight.
Hoefle uses these stories as teaching tools to illuminate the principals of the Parenting on Track™ Program, in a portable, read-anywhere format.
"In my classes, parents benefit from listening to other parent's stories," says Hoefle. "Expanded upon in the book, these stories help readers understand how the principals of the Parenting on Track™ program make a difference, in subtle and profound ways, in the routines and relationships within a home."
While parents had long requested such a book, more recently they also started requesting a Parenting on Track™ digital reference, that could be accessed on ubiquitous digital devices such as smartphones, tablets, and computers. Beyond a blog and simpler than an app, the eBook format was the most ideal solution.
"Real Parents, Real Progress, Inside the lives of Parenting on Track™ Families," released exclusively as an eBook, is available for Kindle, Nook, and in the Apple iBookstore for iPhone, iPad and iPod touch.
Parenting On Track™ — created by veteran parent educator Vicki Hoefle – is a proactive, sustainable program based on Adlerian Psychology. From eliminating "useless" behaviors such as whining and power struggles, to showing children that they are capable and important members of the family, the Parenting On Track™ program provides parents with tools to create a respectful and peaceful family life. The program was recently awarded The Baby Planners™ Seal of Approval & received the Parent Tested Parent Approved Award. For more information, or to purchase the Parenting on Track™ Home Program, please visit parentingontrack.com.
###