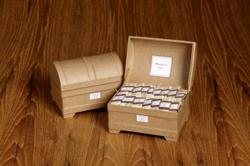 The best housewarming gift since the potted plant
-The Chicago Tribune
New York, NY (PRWEB) November 28, 2011
In response to overwhelming customer demand, Valsey and Me has launched a new medium size box of personal use soaps called the Broadway. Valsey and Me, the original purveyor of one time use, personalized soap, has been making their unique soap for five years. The Broadway will contain 28 individual use soap mini-bars. Like Goldilocks and the Three Bears, customers will be able to select the size that is just right.
Valsey and Me offers natural, artisanally made soaps in a variety of luxurious scents. The Broadway can be customized to contain either one scent or a sampling of four chips of each of the seven wonderful scents available, including the three new scents Apple Cider, Strawberries & Cream and Cranberry Rose. The new scents evoke the Fall harvest and holiday celebrations.
The soaps are great for holiday parties or any special occasion when you entertain guests in your home. The unique soap chips are handmade in the U.S.A. of natural, sustainable ingredients. They are slowly crafted and will delight the senses. The inviting scents and personalized message are an excellent way to welcome holiday guests to your home, perfect for any powder room or guest bathroom.
Previously featured in the One-of-a-Kind Personalized Gifts section of Oprah Winfrey's O Magazine as "A few things the editors of O Magazine think are just great," they make great gifts too. Nancy Watkins of the Chicago Tribune called Valsey and Me soaps "the best housewarming gift since the potted plant."
# # #