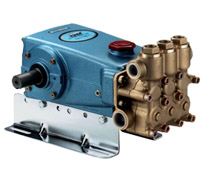 Our CAT Pumps have been pumping away for nearly 18 years with the only service being regularly scheduled oil changes!
Malden, MA (PRWEB) November 03, 2011
CAT Pumps, a leading manufacturer of high pressure pumps, has recently added an improved variant to the popular model 310. The new model 310B, equipped with a special brass manifold, has increased resistance to washout.
Prior to 1968, high pressure car wash pumps delivered very short life and very high operating costs. They could not meet the demands of the car wash industry without constant maintenance, greatly reducing the growth potential for car wash businesses. When CAT Pumps introduced high-pressure pump technology in 1968 to the carwash industry, a new found respect for reliable high quality pumps was brought forth.
Today, CAT Pumps are used in over 80% of car wash applications, and are known around the car wash industry for their exceptional durability and long lifespan. The CAT 310 Car Wash Pump uses a triplex high-pressure piston and plunger design to deliver a smooth low pulsation flow. With a 4.0GPM flow and 100-2200PSI, the CAT 310 provides a high efficiency and low pulsation solution at a competitive price to car washes all around the nation.
CAT Pumps raised the playing field even more with the new and improved 310B pump. The CAT 310B Car Wash Pump utilizes a special brass manifold to resist washout that occurs from use of hard water, high pH liquids, sea water, acids or other harsh liquids.
Autowash Maintenance is an authorized distributor of High Pressure CAT Pumps for use in car wash, pressure cleaning, reverse osmosis, chemical and oil processing, DI water misting, CO2 and foam firefighting applications. Browse online pricing and availability of CAT Pump high-pressure triplex car wash pumps, or contact Autowash directly for a quote.
###