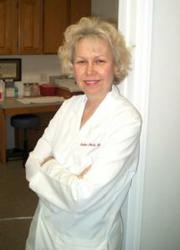 Prescott, AZ (PRWEB) November 01, 2011
Vein Specialties was founded in Prescott, Arizona by Dr. Robin Fleck, M.D, who offers Arizonans non-surgical varicose and spider vein treatments, such as endovenous laser ablation (EVLA) and foam sclerotherapy. Varicose veins and spider veins are caused by venous insufficiency which left untreated can lead to more severe health issues, including blood clots. There are many tell-tale signs for venous insufficiency that are often misinterpreted as "just getting old", but are actually the result of poor venous circulation in the legs. Dr. Fleck and Vein Specialties have compiled a list to help identify the common syndromes of venous insufficiency, and what can be done about it.
Leg Soreness and Cramping
Leg aching, heaviness, fatigue, restless leg syndrome or leg cramps are all symptoms of venous insufficiency. These symptoms should be investigated with a noninvasive ultrasound examination to detect treatable conditions, including venous insufficiency, Baker's cysts, arterial disease or blood clots. Sitting or standing in one place for too long is one of the main causes for venous insufficiency, as well as heavy lifting or any kind of exercise that puts added stress on the legs. "Taking frequent breaks by getting up and walking around is a great way to help with the circulation in your legs if you're stuck at a desk most of the day," notes Jessica Peters, medical assistant for Vein Specialties. "We recommend to our patients that they move around every 30 minutes to help with circulation. Keeping legs elevated in the evening or when not working will help with blood flow. Staying physically active helps in the prevention of venous insufficiency."
Skin Ulcers and Discoloration
Itching, rashes or discolored skin around the area of a varicose vein or around the ankle is often a sign that the veins are not working properly. Sluggish blood flow can cause skin to turn a brownish or reddish color on the lower calf or ankle. If skin ulcers begin to develop, usually near or around the ankle, it can be a sign that a patient is suffering from a serious form of vascular disease and must get attention immediately. "Gradient compression stockings can help alleviate some of the symptoms associated with venous insufficiency," observes Dr. Fleck. "Compression stockings won't fix the problem, but can keep it from worsening until a patient can arrange for treatment."
Blood Clots
Sluggish blood flow can result in coagulation of the blood in the leg veins. Blood clots can occur in the superficial or deep veins. Those occurring in the superficial veins are not usually life-threatening but can result in lost time from work because of severe leg pain. Deep venous blood clots can be life-threatening since part of the clot can break off and block major vessels in the chest. Many times, deep vein blood clots are not diagnosed because they don't cause severe pain or the dull ache is dismissed by the patient. Blood clots in the leg veins most often occur after trauma, if there is a family history of blood clots, after surgery, on long airline or car trips, or in cancer. Aching or swelling of the legs should be evaluated immediately with an ultrasound examination.
Leg Swelling
Venous insufficiency allows blood to pool in the lower leg and ankle veins which makes the veins enlarge and the walls of the vein become thinner as a result. The added pressure causes the vein to leak and cause swelling in the surrounding area. "We can detect leg swelling during an examination often before the patient has experienced significant symptoms," Jessica Peters says. "The best time to identify it is when you take off your socks. If there are visible marks left, you are suffering from leg swelling." Knee-high compression stockings worn during the day or leg elevation can help reduce swelling.
Varicose and Spider Veins
Small veins that are superficial (on the surface of the skin) and are red or purple in color are known as spider veins. Varicose veins are larger and bluish or greenish in color. These are the visible clues to vein disease. Maintaining normal weight, active lifestyle and wearing compression stockings are great preventative measures. Unfortunately, due to heredity, up to a third of the U.S. population has a predisposition for developing varicose and spider veins. "The endovenous laser (EVLA) and foam sclerotherapy treatments for varicose and spider veins were developed in the past ten years and are quick and non invasive as opposed to the older method of vein stripping," comments Dr.Fleck. "These are proven and effective ways to remove the unsightly varicose and spider veins that accompany venous insufficiency. Most insurance companies now cover these procedures because they are so effective at resolving associated leg symptoms and preventing leg ulcers and blood clots."
"Our patients are able to go back to work directly after the procedure," Jessica Peters remarks. "The laser treatment takes less than 30 minutes, and patients can return to regular activity immediately."
Using just local anesthesia, EVLA heats the vein from the inside using a fiberoptic glass laser fiber through a small needle puncture. This closes the damaged vein, and blood is re-routed through collateral veins, restoring proper blood flow to the legs. Postoperative pain can be managed with Ibuprofen for about five days.
Spider veins are treated painlessly and effectively with foam sclerotherapy. Safer drugs have been approved since the era of hypertonic saline injections. Nowadays the risk of staining of the skin or ulceration is almost zero with these newer sclerosant agents.
Vein specialist and cosmetic dermatologist Robin Fleck, M.D, is a double-board certified dermatologist and internist, recognized by the American Board of Dermatology and American Board of Internal Medicine. She is founder and Medical Director of Vein Specialties http://www.prescottvein.com/ in Prescott, Arizona, and is a fellow of the American Society of Laser Medicine and Surgery , the American Academy of Dermatology, and the American Venous Forum. Dr. Fleck is also the founder of Southwest Skin & Cancer Institute http://www.rejuvadoc.com/ and Body Oasis Laser Aesthetics http://www.bodyoasislaser.com/ in Prescott, Arizona.
###